Micronutrients need attention in Haryana
S.P. Gupta and S.S. Dahiya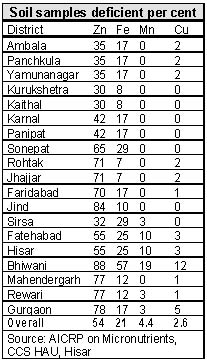 INTENSIVE cultivation, increased use of NPK (nitrogen, phosphorus and potassium) fertilisers and decreased recycling of crop residue and animal manure have lead to imbalance not only of macro but also micronutrients in soil.
Owing to widespread deficiency of zinc in different parts of the country, the yields have become dependent upon zinc application as much as on N, P and K, and Haryana is no exception in this regard. According to an estimate, about 54 per cent soils in Haryana are deficient in zinc. Lands deficient in iron, manganese and copper are 21, 4.4 and 2.6 per cent, respectively (see table for district-wise data). The deficiency of both zinc and iron is estimated in about 8 per cent soils and that of Zn+Fe+Mn in less than 1 per cent.
Haryana is divided into two zones, north-eastern (NE) and south-western (SW). The NE zone comprises Ambala, Panchkula, Yamunanagar, Kurukshetra, Kaithal, Panipat, Karnal, Sonepat, Faridabad, Rohtak and parts of Jind, Jhajjar and Gurgaon districts. The SW zone comprises Sirsa, Fatehabad, Hisar, Bhiwani, Mahendergarh, Rewari and parts of Jind, Jhajjar and Gurgaon districts.
Greater part of the SW zone is coarse in texture with low organic matter, calcareous and has alkaline pH as compared to coarse to fine texture, medium organic matter and neutral to alkaline pH of the NE zone.
The soils of the SW zone are more prone to zinc and iron deficiency. Analysis of soil samples from the NE zone show that in Ambala, Kurukshetra, Kaithal, Karnal, Panipat and Yamuna Nagar districts the deficiency of zinc is consistently decreasing, due to the use of zinc fertilisers, particularly in paddy. As per an estimate, zinc sulphate consumption in the NE zone is more than three and half times that in the SW zone.
By and large, the soils of the state are rich in copper and manganese and do not need their application, except under specific conditions. However, a recent estimation of 600 soil samples from the rice-wheat system of Kaithal district showed that manganese deficiency is on the increase and 18 per cent soil samples were found deficient in it. This means that manganese deficiency in the rice-wheat system on percolating alkaline soil after seven-eight years may be a serious problem.
Critical levels
As critical levels of micronutrients in plants vary with age and crop, it is important to establish the critical levels of soil for better planning of micronutrient fertilisation before sowing. In general, soils with DTPA (diethylene triamine penta acetic acid) extractable zinc, iron, manganese and copper less than 0.6, 4.5, 3.0 and 0.2 mg/kg soil, respectively, will require the application of that particular nutrient to sustain production. Similarly, plants having zinc, iron, manganese and copper levels (dry-weight basis) less than 20, 50, 20 and 4 mg/kg, respectively, will require that nutrient for healthy growth.
Amelioration
Zinc: The best method to ameliorate zinc deficiency is soil application of zinc sulphate before sowing. Field trials have shown that in paddy, the application of 2.5 kg zinc sulphate/ha gave the highest average response of 580 kg/ha. The magnitude was similar in mustard and wheat—380 and 350 kg/ha, respectively—while in cotton it was 220 kg/ha. Crops such as barley, pearl-millet, sorghum gram and clusterbean were found more resistant to zinc deficiency than other crops.
If zinc deficiency appears in a standing crop, then foliar spray should be done. For that, dissolve 500 gm zinc sulphate in 100 litres of water and add 250 gm unslaked lime or 2 kg urea. Generally 400 litres of this solution is sufficient for foliar spray of one hectare. Two to three sprays at an interval of 10-12 days are sufficient.
In case soil application is done, then there is no need to apply zinc sulphate in the subsequent crop. It is estimated that a rupee spent on zinc sulphate may give an additional income of Rs 3.50 or Rs 20. The return is much higher than a rupee spent on N, P and K, but both macro and micronutrients, i.e., NPK and Zn, together are necessary for obtaining optimum yields.
Iron: The best method to ameliorate iron deficiency is foliar spray of ferrous sulphate. It is better than soil application. For that, 2-3 foliar sprays of 0.5% ferrous sulphate at an interval of 10-15 days are recommended. The crops affected by iron deficiency are sugarcane, paddy nursery, sorghum, groundnut, bajra, gram and fruit trees.
Manganese: As in iron, the best method to control manganese deficiency is through foliar spray of 0.5% manganese sulphate. About 200 litre of manganese sulphate solution per acre is sufficient.
As far as the efficacy of multimicronutrients is concerned, it is believed that at present there is no scope for such formulations in Haryana as there are only specific deficiencies of particular nutrients and only those need to be mitigated.
Keeping in view the emerging deficiencies of micronutrients and crop responses to added micronutrients, it is important to apply balanced fertilisers to sustain crop production. The concept and content of balanced fertilisation should no longer be confined to NPK application alone, but also include zinc and iron.
It is estimated that on the basis of area under important crops and keeping in view the 54 per cent zinc deficient soils, if 50 per cent area gets zinc sulphate once a year, then Haryana needs approximately 25000-27000 tonnes of zinc sulphate per year. The present consumption is 9000 tonnes.