M A I N N E W S
Militant behind Akshardham attack killed
Tribune News Service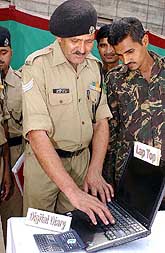 A BSF personnel displays a laptop seized from Lashkar-e-Toiba chief coordinator (operations) in India, Manzoor Zahid Choudhary. A resident of Lahore in Pakistan, Choudhary was killed in a joint BSF-police operation in Badgam, central Kashmir, on Friday morning.
He was said to be the mastermind behind the suicide attack on Gujarat's Akshardham temple, several security installations and massacre of Kashmiri Pandits at Nadimarg. — PTI
Srinagar, August 8
The police and the security forces claimed to have achieved a major success with the killing of a top militant of the Lashkar-e-Toiba in Budgam district in the wee hours today.
Manzoor Zahid Choudhary, a resident of Lahore who was acting chief coordinator for operations not only in Jammu and Kashmir but also in other parts of the country, was based in south Kashmir. He was also publicity in charge of the outfit, said the DIG, BSF, Mr K. Srinivasan.
The militant was also involved in the attack on Akshardham temple in Ahmedabad, Nadimarg carnage and several other major incidents in the state. Mr Srinivasan said he was also part of a team which had planned a suicide attack in Ayodhya in December last year.
The recoveries made from the spot include a laptop, a satellite phone, a digital diary and some incriminating documents concealed in a bag, in addition to one AK rifle, three AK magazines and two hand grenades. The slain militant had several aliases such as Abu Murshad, Abu Nadeem, Abu Zishan, Munna and Abu Zarar.
Mr Srinivasan said troops of 118 Bn BSF and the police laid an ambush on the outskirts of Budgam village in Budgam district, near here, last night. In the wee hours, the troops observed suspicious movement of a group of militants heading towards Kesarmulla village. They were challenged by the troops that led to heavy firing from the militants. The fire was retaliated and the exchange of fire continued for about 20 minutes. During search of the spot, the body of Manzoor recovered.
The DIG said going by the documents recovered from the militant, Manzoor had visited south Kashmir along with two of his associates last month to carry out reconnaissance of the area and was probably planning suicide attack on Amarnath yatris. Mr Srinivasan added that the militants' presence in the Budgam area also indicated some major attack ahead of Independence Day.
The examination of electronic gadgets has revealed names of some of his associates. They are Abu Umair, Divisional Commander, LeT, south Kashmir, Abdul Rehman Saini, District Commander, south Kashmir, Parvez Ahmad Mir and Khalid Jameel of Soura (Srinagar), Abdul Raub and Shabir Kulle of Shopian, Lateef Moulvi and Mohammad Shafi Bhat of Srinagar and Muslim Zarar.
Meanwhile, six militants were killed while one was arrested in the valley over night.
An official spokesman said the security forces killed a militant while another was arrested near the LoC in the Machil sector last night.