Sunday, August 10, 2003
Books
A slice of journalist's life
Jaswant Kaur
Mother Teresa: Saint of the Indian Crossroads and Other Vignettes
by R.K. Raju. Shipra Publications, New Delhi. Pages 123. Rs 225.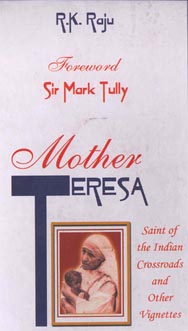 FOR some it is a passion, for some a jumble of deadlines and for some others a mere cut-and-a-paste job for adding a few bucks to their take-home salary. But for Raju, journalism is a way of life, full of challenges, twists and turns.
A veteran of The Statesman, he has all the skills for turning an ordinary of life into an extraordinary story, keeping in tact the truth, denouncing what is called "yellow journalism." As a reporter he is always on the move, tasting and testing all that is described as news. And at the end of it there are quaint memories of the past, with a unique freshness and timelessness.
The book under review presents a slice of Raju's journalistic life. And as one goes through it one finds two Rajus. One who is impish, sensitive to his surroundings, fine-tuned to the feelings of others, and the other—the journalist. Forever inquisitive, observing, happy to learn and absorb new ideas, confident, at peace with himself, one with the people but still detached enough to be impartial.
His subjects vary from the saintly Mother Teresa to the agnostic Jawahar Lal Nehru, from the polished writer Ruskin Bond to the rustic film star Shivaji Ganeshan. Be it the crowed streets of Delhi, an isolated village in the jungle or the ever-dangerous airstrip of Leh, his bag is replete with incisive and mind-boggling stories. Take for instance, the story of Mr and Mrs Robert, an American couple, of East Nizammudin, New Delhi, who have an unusual but a treasured possession—Sundari—a "friendly" leopard. Then we have a study revealing a whopping 50 per cent drop in wife-beating cases in Israel during the Football World Cup. Men finding solace in a football game! Sounds amusing. Isn't? And what about women? Well, they owe a great "debt of gratitude to the World Cup."