Monday, August 11, 2003
Web Jingle
Stamp commemorates Ina Mina Dika man
Amit Puri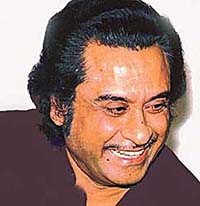 Kishore Kumar
Date of birth: August 4, 1929
Place: Khandwa
Hit Songs: Aa Chal ke Tujhe, Woh Shaam Kuch Ajeeb Thi, Pyaar Diwaana Hota Hai, Chala Jata Hoon, Ina Mina Dika, Hum Hai Rahi Pyaar ke, Haal Kaisa Hai Janaab Ka, Yeh Raatein, Yeh Mausam, Zaroorat Hai
KISHORE KUMAR was born on August 4, 1929, in a middle class family at Khandwa. His father, Kunjhalal Gangoly, was a lawyer by profession. Kishore was the youngest member in the family. His elder brother, Ashok Kumar, was 20 years older to him. Kishore went to a prominent school but was never interested in studies. He used to sing at home and his parents used to gift him money in return.
Kishore was offered a small role in Ziddi and Khemchand Prakash heard Kishore Kumar singing. He gave Kishore Kumar a chance and he sang, Marne ki Duayen Kyon Mangu, for Dev Anand in typical K. L. Saigal style. The turning point came in 1969 with Aradhana. S. D. Burman was the music director and the songs were for Rajesh Khanna. Kishore sang many songs for Rajesh Khanna in early seventies and most of them became major hits. A few notable ones are Mere Sapnon ki Rani and Kora Kagaz Tha Yeh Man Mera.
Kishore Kumar was a versatile person; he was a singer, actor and music director. He gave music in many films and acted in a few popular ones like Half Ticket, Padosan and Chalti ka Naam Gaadi. He received many awards, including eight Filmfare Awards as the Best Male Playback Singer. The singer died due to heart attack in 1987. The Government of India released a postal stamp as an honour to the singer on May 15, 2003, a few days prior to his 74th birth anniversary this year.
About Kishore Kumar, Photo Gallery , Filmography , Storylines , Articles , Awards , Nominations , Wallpapers New!, Bam Chika Bam Bam - Humour!, Songs Lyrics, Hall Of Fame, Mulaqaat, Quiz New!, Songs Library-Database, Baaton Baaton Mein(BBM)-Forum, Greetings-To Other Legends!, Other Links, Feedback and Fund the Site are the main sections of this site. This site gives complete information about the songs by the legend and lyrics of some of the songs.
www.rajeevtiwari.com/songs.html
This is a good site for those who wants to download the songs. All songs are available in Real Media format and site permits us to download the songs. Generally all links of the site are working. This site gives the choice of downloading more than 120 songs. His solo duets with Asha and Lata are also available.
www.indianmelody.com/kishorekumar.htm
This is the page from where we can open two pages namely Collection 1 and Collection 2. Both pages contain songs of Kishore Kumar. There are more than 40 songs that can be heard online. The site doesn't permit us to download songs. All songs available on the site are popular. Many of Kishore's songs are available at www.musicindiaonline.com/ music/l/03030B.