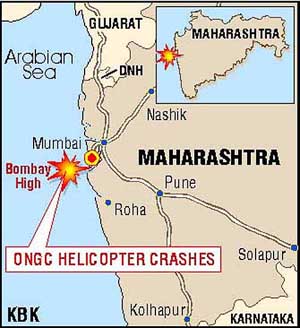 Mumbai, August 11
In one of the worst accidents involving a helicopter, at least three persons were killed and 22 employees of the Oil and Natural Gas Corporation (ONGC) and two crew members were feared drowned when a helicopter carrying them crashed into the Arabian Sea, 35 km from here today.
Two ONGC employees survived the crash which took place at 12.18 pm when the MI-72 helicopter, belonging to private firm Mesco, ferrying personnel from Sagar Kiran to the Sagar Jyoti jackup rig plunged into the sea, ONGC Director (Offshore) V.K. Sharma said here today. In all, it had 29 persons on board.
The bodies of the Commander, the Flight Engineer and an ONGC employee were flown to the Juhu helibase this evening.
Union Petroleum and Natural Gas Minister Ram Naik has ordered two separate inquiries — one into the crash by the Civil Aviation Ministry and the other relating to the inspection of all helicopter operations to the Bombay High region.
There was no distress call nor any snag reported from the helicopter which had taken off from the Juhu helibase early today for Sagar Kiran.
Joint Secretary of Civil Aviation Ministry Raghu Menon and Director-General of Civil Aviation Satindra Singh flew into the city following the crash of the helicopter.
Mr Naik said his ministry would also look into safety measures in the offshore operations of the corporation by an independent team of experts.
Mr Naik, who was gheraoed by the ONGC Scientific and Technmical Officers Association on his arrival from the accident site, announced an exgratia of Rs 5 lakh to families of the deceased and said this would be in addition to the package which was usually given under such circumstances.
Soon after the crash three vessels of the ONGC and the Navy were deployed to carry out search and rescue operations. Five helicopters, including a Chetak and a Seaking, were also pressed into service.
About ONGC employees threat to stop offshore operations till the suspension of Raha, Mr Naik said he had appealed to workers not to stop operations in the interest of the nation and as it would affect the production of oil and crude. — PTI