The other Kabir bhajan, Murshid Naion, by Shubha Mudgal is also a mix of conventional Indian and western sounds.
Shubha also sings Faiz Ahmed Faiz's soulful composition, Is Vaqt.
Dr Kalam's poem Manavata Hum Hain Kya Akele, rendered by Hiral Brahmbhatt, is another passionate cry for brotherhood and peace.
Yes We Can, composed by Louis Banks and sung by the female band Destiny, advocates universal love and peace. Javed Akhtar has penned and recited Fasad with soul-shattering feelings. He describes the silence which emerges after a bloodbath in his unique style. While Gauhar Raza's Lahoo talks of the futility of violence, Sarod maestro Amjad Ali Khan has lent his voice to a patriotic number, Bharat Hai Desh Hamara.
The album closes with Zakhm, Fazal Qureshi's moving interplay of vocals and the tabla.
Mumbai Matinee (Times Music)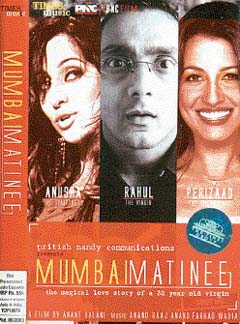 This film by Pritish Nandy Communications promises to break new grounds. The "magical love story of a 32-year-old virgin" also breaks many taboos.
Songs like "Sex is Good" and "It's a shame when you are in lust with someone" wouldn't have been touched with a bargepole by the mainstream cinema. Farhad Wadia is the main music director, while Anand Raj Anand has composed the opening number, Loot gaye`85. Wadia has also penned many of the songs.
Besides having Sonu Nigam and Shaan, the film gives a chance to many new singers like Saswati, Kunal Ganjawala and Joe Alvares.
The album includes a remix number, Mumbai se aaya mere dost, remixed by DJ Na'ryan and sung by Abbey and Sukhreen.
Janasheen
(T-Series)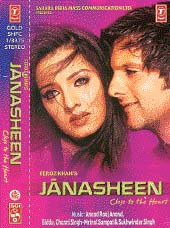 Feroze Khan's films almost always boast of excellent music and he has lived up to this expectation through his latest offering, which stars his son Fardeen. It is packed with several catchy numbers.
Anand Raj Anand is the music director but Feroze has also included numbers composed by Biddu, Channi Singh, Mrinal Sampat and Sukhvinder Singh. That gamble adds variety to the album.
Feroze has cast his net wide for lyrics also. He has here songs penned by Praveen Bhardwaj, Timon Singh, Nasir Kazmi, Ijaz Ahmed Ijaz, Dev Kohli, Ibrahim Ashq and Tejpal Kaur.
The opening song Pyar hone laga hai, penned by Praveen Bhardwaj and sung by Alka Yagnik and Sonu Nigam, is the most syrupy of the lot. A close second is Dil ne dil se tujhe pukara, sung by Gauri Bapat.
Adnan Sani does not sound very natural while singing Nashe nashe mein yaar`85but Sunidhi Chauhan does.