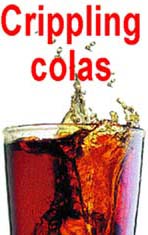 Gaurav Choudhury
THE month of August is usually a period of stocktaking for soft drink manufacturers. Boardroom discussions centre on sales figures, sponsorship deals and celebrity endorsements. There was nothing unusual this year except for the fact that good monsoons, especially in the semi-arid North India, had marginally affected the retail volumes. Nothing extraordinary and all was quiet in the swanky corporate headquarters of Coca- Cola and Pepsi India in downtown Gurgaon. It was a typical monsoon afternoon on August 5. Little had the top honchos at the American beverage-manufacturing units imagined that an explosion of massive ramifications that could threaten their very existence in the country, might be camouflaged in the persistent drizzle.

Caught between culture and tradition
Pratibha Chauhan
NEVER mind if Hollywood actor-director, Richard Gere, a die-hard Tibet supporter and one of Dalai Lama's many high-profile disciples, scoffed at exiled Tibetan youths' passion for beauty and fashion.

Psychologists say police training needs to be overhauled. A police officer says a change in the mindset is required. And, a former IGP says the force is alright, but the fault lies with the top brass. So...
What is wrong with the Punjab police?
Sarbjit Dhaliwal
DRUNK policemen shoot a boy working at a teastall; a guard of Jagraon SSP fires at a car in SAS Nagar; drunken senior police officers maim Goindwal Sub-Inspector; a DIG's car hits a military truck carrying schoolchildren; missive sent to a DGP on misbehaviour by an SP.