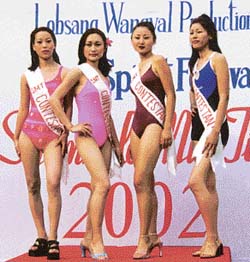 The four contestants of the first-ever Miss Tibet pageant held in Dharamsala last year
Immensely popular among the Indian-born Tibetan youth, Lobsang, a pony-tailed youth with an earring dangling from his ear, is the brain behind the beauty pageant. "We are artists and it is through the medium of art and culture that we wish to bring the Tibetan issue into international focus. Organising the beauty pageant is a step in this direction," says Lobsang.
The organisers have already started receiving applications from those keen to participate in the second Miss Tibet contest, scheduled for October. "We have so far received applications from six exiled Tibetan girls residing in India, Nepal and abroad," informs Lobsang.
Due to sharp criticism from the Tibetan Prime Minister and a large section of the deeply religious Tibetans, a number of girls had pulled out from the contest last year, leaving only four in the fray. "Even if there were just four participants, we were able to attract ample international attention, which was the objective behind holding the pageant," says Lobsang.
"I am strictly opposed to the idea of a beauty pageant for Tibetan girls. However, I will not impose a ban or start a campaign against holding of the Miss Tibet contest," says Samdong Rimpoche, about his views on the issue.
The enthusiastic Tibetans, on their part, have not lost hope as they sought help from Richard Gere and Goldie Hawn, who were in Dharamsala to meet the Tibetan spiritual and temporal leader, Dalai Lama, a few days back. "Being deeply religious and politically associated with the issue of Tibet, I can understand Richard Gere's reservations about extending financial help for something alien to Tibetan culture," feel Lobsang, unwilling to be bogged down by Gere's reluctance.
On the contrary, Tibetan youth, living in exile in India and abroad, feel that the idea of hosting the beauty contest was brilliant. "For how long can we continue to live in the fifth century as sooner or later we have to open up to the modern world, where beauty is not considered taboo," quips 23-year-old Tenzin Tsering, studying in a Delhi college. With his family making a living through agriculture in Chattisgarh, he would want to move to the States, if given an opportunity.
Over 80 per cent of the Tibetan youth are in favour of holding the beauty contest. "You cannot imagine the sense of pride and honour we felt when the winner of the Miss Tibet contest shared the dais with Miss China at international contests," says Thupten, a student in the Tibetan Children Village school, near Dal Lake.
The 20-year-old winner of the first Miss TIbet contest, Dolma Tsering, is a rage amongst the younger Tibetan generation ever since she shot into limelight. Not only is she getting offers from Tibetan film directors, but is being picked up for plum modelling assignments in Delhi.
It is with great pride that Tibetan youth have displayed glossy photographs of Dolma with Miss China in their shops and homes. She won the Best National Costume Award at the Miss Tourism contest held in Mexico and was voted Miss Goodwill at the Miss Tourism Inter Continent contest, held in Malaysia.
Born in Tibet, it was in 1994 that Dolma fled to India along with her family. After attending school for a few years at Patlikuhl in Kulu district of Himachal Pradesh, she was forced to drop out, to supplement the meagre earnings of the family. She is currently doing modelling assignments in Delhi, and also training to be a singer.
There are others like Choekyi, a 26-year-old shopkeeper in Mcleodganj who feels that getting into the beauty and fashion business would reflect badly on the Tibetan issue. "At the moment our primary concern should be to attain freedom and not get distracted by something like beauty contests, which are alien to our culture and tradition," is her opinion.
Those occupying senior positions in the Tibetan government-in-exile, too feel that the holding of the beauty contest has caused considerable amount of embarrassment to Tibetans, as it is their rich art, culture, tradition and religion which sets them apart from the rest of the world.
"It is a matter of shame that while Tibetan Buddhism is attracting foreigners in large numbers, we are aping the West, which of course is reflecting badly on our cause," reasons a Tibetan leader, not wanting to be identified.
Caught between culture and tradition on the one hand and the lure of a flashy western lifestyle on the other, practically every India-born Tibetan cherishes the dream not of going back to Tibet but of migrating to America, Australia or any European country, for better career prospects and ultimate freedom.