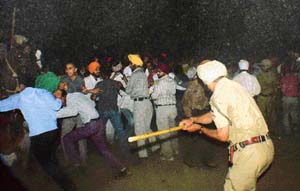 Though we claim to be one of the biggest democracies in the world yet police waywardness and excesses rarely generate intense debate among social scientists, psychologists and even the media in our country. You hardly had any editorials condemning the gruesome "murder" of a boy working at a teastall by two drunken policemen at a dhaba in Patiala. Among the politicians, only Birdevinder Singh spoke against the incident. He, too, perhaps, protested because of political necessity. He went to the extent of demanding the screening of the police force to weed out "criminal elements" from it.
What is wrong with the police force? Why do policemen behave in such a rough and brutal manner? Are the police training methods faulty or is there a problem with the command system? Has the government failed to keep a check on police discipline or has the police not yet been able to drop the belligerent attitude that it had adopted during the militancy period? All these questions beg attention.
The police had been given a "free hand" to deal with "abnormal violent conditions" during the period of militancy in the state. However, that period has been long over. Since then no serious effort has been made to bring the police force to "normal mode"to deal with the peacetime situation. Owing to this reason, the incidents such as the killing of the boy, and other excesses on people have been happening, observes a senior police officer.
"There is an immediate need for holding extensive re-orientation courses for the police machinery operational in the field. It has to be put it in the normal mode of functioning," says a senior police officer. During peacetime, the police cannot afford to behave in a "hard and harsh manner". "There is a need to bring a complete change in the mindset. Only a handful of wayward officials at the junior and senior levels bring a bad name to the entire force. They could be easily identified and put under watch," he asserts.
Psychologists, however, say that pathological problems among Punjab police personnel are on the rise. These must be tackled and not dismissed lightly.
Anuradha Bhandari, Chairman of the Psychology Department of Panjab University, says that there is need to take help of psychologists on a regular basis to keep track of the behavioural pattern of particulary those policemen who have a case history of overstepping their jurisdiction.
Psychologists should also help chalk out the training programmes at various levels for the police force. They should be involved actively in the training process. " Proper scanning should be conducted to identify high-risk cases in the police and such employees should not be put on sensitive duties in the field," she maintains.
Agyajit Singh, an eminent psychologist, who has been visiting the Punjab Police Academy, Phillaur, for the past several years, advocates a change in the police training system. "The training is primitive and demands total overhauling. The stress is on physical training and not on mental training. There is need to stimulate behavioural modifications in the police from the top to bottom level to attune the force to the needs of the modern society," he declares.
Society has been changing fast but not the police. Heightened and emotionally charged behaviour is not desirable in today's society. In the US, policemen are polite, respectful but very firm.
Agyajit Singh, who has taught psychology in Punjabi University and at a college in Boston and and is currently Principal of a B.Ed college near Patiala, says that the concept of community policing, which DGP A.A. Siddiqui wanted to introduce, can be successfully implemented if adequate changes are introduced in the training programme.
Even the selection process is faulty. The police is required to recruit emotionally balanced persons. To achieve this psychologists should be made part of the selection process as is done by the Army. "After all, the police has to deal with human beings, most of whom visit a police station when in distress," says Agyajit Singh.
To develop a smooth and workable relationship with the community, this psychologist feels, policemen should be good at public relations. This shall make community policing a success.
Developed countries have been laying more stress on emotional intelligence and less on IQ, because emotionally balanced persons can perform their duties in a disciplined manner, whereas emotionally imbalanced ones can prove to be very dangerous. Moreover, IQ cannot be increased but emotional intelligence could be by proper training. For instance, there are hundreds of exercises to manage stress. Private companies nowadays organise special stress-management programmes for their executives who are prone to stress, says Agyajit Singh.
Psychology was included as a subject in the training programme of police personnel from the rank of Assistant Sub-Inspector to DSP at the Phillaur police academy about a decade ago. D.J.Singh, a doctorate in police behaviour, has been posted at the academy as Deputy Director to teach psychology. But there is no such provision at Jahan Khelan (Hoshiarpur), where constabulary, which constitutes about 90 per cent of the total police force, is trained.
Experts say that behaviour cannot be changed by training alone. The need of the hour is to alter the total police culture such as working conditions, duty hours, investigation methods, etc.
Most of the policemen remain overworked and have to stay away from their families and kids for long periods. It often leads to family problems and disputes. Domestic tension may translate into rude behaviour on duty. It has also been seen that officers treat their subordinates in a shabby and insulting manner. There are officers who habitually abuse their subordinates.
Rarely are subordinates offered chairs by seniors in their offices. They are kept standing. Experts say that small gestures like a senior offering to shake hands with a junior when the latter calls on the former for official work or with a problem can go a long way in improving the behaviour of policeman at the lower level.
However, B.S. Danewalia, a former IGP (1977-1980) who is even today held in high esteem in police ranks for his role in establishing the police welfare system, says there is "nothing wrong with the training system." All talk for a change, is good in theory only. The Punjab police is the best force, which can deliver what is desired from it with a proper supervisory control.
Danewalia asserts that inspection protocol should be reinforced at all levels and senior officers should be directed to conduct regular inspections and checkings in the field. "Indicipline has grown because there has been slackness and lethargy in enforcing the supervisory control from the top level." This former IGP avers that the police mindset is all right. Police jawans are well aware of their duties, jurisdiction, etc.
"Discipline could be enforced at all levels within 10 days of putting the command system in top gear," he maintains. Even corruption in the force can be minimised. "No SSP or SP can resort to corruption in the field if an officer of the rank of DGP wants to stop corruption. And no SHO or DSP can take a bribe if the District Police Chief is against it," he asserts.
"Even police officers who secure postings with help from political godfathers can be straightened out by subjecting them to repeated inspections and checkings in their areas of duty," says Danewalia.
The new DGP, A.A. Siddiqui, has stated that he would strive to change the image of the police to make it people-friendly. He has also given the assurance that "the incorrigible and the habitual indisciplined lot" would be dealt with in a stringent manner.
"My main thrust would be to reinforce community policing and redressal of grievances," Siddiqui said in his first interaction with mediapersons.
Siddiqui, who seems to have a clear vision about what he wants to do, has done Ph.D in police subculture.
The problem, however, is not one of discipline alone. In all big scandals, exposed recently, the name of one or the other senior police officer or their close relations has figured directly or indirectly. A number of cases of petty ego clashes and other official fights among officers at senior levels have been reported. Groupism at the top level in Punjab police is no more a veiled affair. Officers have made complaints against each other in black and white.
Recently, it was reported that an IGP posted at Patiala had been receiving threatening calls.The IGP, according to the report, knew who was making threatening calls to him. He also knew why such calls were being made and had, therefore, got his security beefed up also. But he has also shown his haplessness to take action despite being the top officer in the range. It explains a lot about the prevailing situation in the police set-up.
Then there are allegations of "politicisation" of the police. Certain opposition leaders have levelled serious allegations regarding the victimisation of their activists by the police for political reasons. They have also alleged misuse of the police to win elections. The office of the Punjab Human Rights Commission is also burdened with complaints regarding human rights violations by the police.
Siddiqui, who has a huge and challenging task before him, will have to walk a long distance to set the force in order.