Global vignette
Russian women baffle feminists
Elayne Clift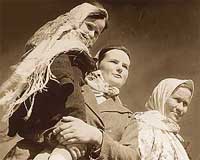 Russian women are happy to look after their homes and kids
MOST guidebooks about Russia offer the same advice: "Don't try to understand Russia; you never will." Having travelled there recently, I can see why. It is an enigmatic and ever-emerging land of contrast and frequent contradictions. Those contradictions are represented by the Russian women I met.
Having lived with "equality" for more than 70 years under communism, many Russian women now say that the "natural order" of things is for men to be men, and women to be women. Which translates into massive regression from a western feminist's point of view, whereby biology rapidly disintegrates into destiny.
Despite a more than 50 per cent divorce rate in Russia, an alarming number of women of all ages seem to crave a fairytale relationship with men now that capitalism has introduced choice and eliminated state-sponsored equal opportunity. Women want to catch their Prince Charming by being very sexy, after which they can stay home, raising children, while the man of the house does the God-given thing: he earns a good living.
Never mind that men are coping badly with the changing economy and resultant unemployment, and that alcoholism and domestic violence are very big problems in Russia, or that it is absolutely taken for granted that he will have another woman or two on the side. A large number of women in Russia still think theirs will be the exceptional relationship.
I was astounded to hear a history professor with two PhDs and a thriving career argue this case, even though she is professionally successful, divorced, and a single mother raising two teenage daughters on her own. An attractive blonde who enjoys dressing up, she described the collective fantasy as "the natural order" of things, arguing that women are tired of being "working horses". They want, she says, "a chance to be human beings". When, after a spirited debate, I suggested that she would go crazy in two weeks without her career, she smiled enigmatically. I still can't figure out if "You're right!" or "Just try me!" was embedded in that smile.
There are, of course, young Russian women who aspire to independence and autonomy at the same time that they wish for a fulfilling and intimate relationship. But they are not optimistic. Irina, a well-educated, bilingual shopkeeper on one of the many river boats that ply the rivers and canals between Moscow and St. Petersburg, is typical. She says that women want an education and a good man, but the former is much easier to acquire than the latter. The men, Irina says, don't want to work, and most of the burdens of work and home fall to the woman.
For western feminists, who have been fighting for decades to achieve equality in academia and the workplace, it is difficult to understand Russian women's retreat to what we see as traditional values. But as one woman put it, "the church has replaced communism as the belief system". And the church is strongly advocating chastity, pro-natalism, hearth and home. Beyond that, Russian women have viewed their much-touted-in-the-West equality as a trap: a grey zone in which they move mechanically from one obligation to another.
Escaping this grey zone in mini-skirts, tight shirts, overly-hennaed hair and excessive make-up feels like liberation to many young women. One atypical young tour guide said that she was treated like an aberration because she wore close-cropped hair, overalls and no make-up. She wasn't the least bit bothered by this; she finds her independence delicious and has no aspirations to marry.
On a deeper level, the position and the aspirations of women in Russia are complex and go far beyond the romantic. Even those who reject the feminist label—and there are many activists who do—have profound worries about what their future holds. A March 2003 article in The New York Times by Sabrina Tavernise pointed out that there are now fewer women in top government posts than there were under communism, day-care centres are closing, fewer women may be attending university, and privatisation is overwhelmingly benefiting men.
Natalia Khodyreva, Director of the St Petersburg Crisis Centre for Women, worries about the increase in trafficking of women (in addition to domestic violence and sexual abuse) and the fact that the government's commitment to women is essentially rhetorical. Still, women who toiled for years in factories and fields seem all too happy to abandon that kind of work for another— homemaking and childcare—even though such work is clearly devalued.
To an outsider who has never experienced life under communism, the strongly stereotypical reaction to the word "feminism", and frequently blatant anti-activist posturing, is puzzling at first, especially as things seem to be downsliding for Russian women.
But the stereotyping of feminists is reminiscent of the nascent women's movement in America during the 1950s and '60s, when women's advocates were positioned as ugly, lesbian, crazy, or all three. One wonders if the movement in Russia will become mainstream faster than ours did, but not whether or not it will take hold.
"In Russia, everything changed after communism," says Galina, a former teacher and now tour guide. "Everyone is now fighting for a place." Whether at work or at home, the places that women inhabit are clearly continuing to evolve as Russia emerges from "Soviet time", and younger women with little memory of those days become leaders across various sectors.
Given that reality, there is an interesting paradox inherent in this evolution. "As children, we Russians were always taught to use a small 'i' but a capital 'We'," the professor told me. Yet, when it comes to Russia's women in this time of transition, that We—the collective concern for women's well-being—seems far less developed than women's individual aspiration. Perhaps that's because in the absence of decree, the struggle for solidarity has just begun.