M A I N N E W S
'Bought brides' of Punjab face societal wrath
Ruchika M. Khanna
Tribune News Service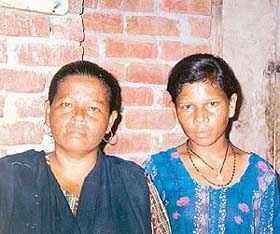 Usha, alias Rani, of Chaanga Khurd village, Ferozepore, with her daughter Bimla.
Usha alias Rani was bought for Rs. 4000 by her "husband" Wadhawa Singh of Chaanga Khurd village in Ferozepur, about 30 years ago. Hailing from Ranaghat in West Bengal, she was sold off by her father at the age of 12, after he got her here on the pretext of getting her a job. A Hindi news channel had recently carried a story on her life, following which the Punjab State Human Rights Commission, directed the local police and the administration to carry a thorough investigation into this human trafficking racket. When The Tribune contacted her in Ferozepur, she said that the police were harassing her and threatening to frame her on charges of selling girls.

"I am an old woman now, and have no contact with anybody in Bengal as both my sisters are married in Punjab. I have seven daughters, and all of them are well settled. Now the police is accusing me of indulging in human trafficking. It is only after the village panchayat vouched for me that I was freed. But I fear for my safety and have been forced to leave home ad seek shelter elsewhwhere", she said.
Ferozepore, August 16
I need a place of my own on the earth. This is the cry for help of hundreds of women from West Bengal, Bihar, Jharkhand, Orissa, Assam and the neighbourng hill country of Nepal, who have been sold off as "brides" in Punjab. From being sold off by their own families to being shunned from social life for being "bought wives", these women look for life beyond mere existence.
Learning the social mores of a different culture, changing their identity, learning the local dialect, eating and dressing differently, and, most importantly, delivering the purpose for which they are primarily bought — to bear sons so as to carry the clan forward — these women have been forced to do it all. But their social ostracisation continues and not many in the villages like to be associated with them. Having no contact with their own families, they continue to suffer the abuses and insults hauled at them.
Says Sammu alias Chindoo of Rahimke Uttaar village in Ferozepur district, "I have no one to look for support in case of any trouble with my husband or in-laws. Sometimes in extreme distress, I remember my family in Gauriyan Magdampur village of Malda in West Bengal. Though we were very poor and did not have enough to eat, we had our support system in our ancestral villages. The only solace here is that we have enough to eat and clothes to wear."
Sammu was only 17, when a woman from her native village, Tikto alias Sukhi, who had herself been sold off here earlier, brought her to Punjab on the pretext of getting her a job, and, instead, sold her off for Rs 5000 to Jarnail Singh, a widower and 15 years her senior. Jarnail's first wife had died and he had a daughter from his first marriage. Now "married "for the past 10 years, the couple have two sons. Sammu says that in spite of her accepting the local culture, she is treated as being "different".
Human trafficking is not a new phenomenon in Punjab. What is new is the trade being carried on by the second and third generation victims themselves. The touts, especially in the border districts of Gurdaspur, Ferozepur, and Amritsar, contact these first-generation and second-generation victims, who have maintained relations back home, and after conniving with them, manage to get new girls here (in the 12-17 age-group), to be sold off for anything between Rs 5,000 and Rs 12,000.
And it is not just in the border areas of the state that human trafficking is going on. Even in the districts of Bathinda, Ludhiana, Fatehgarh Sahib and Nawanshahr, this trade of brides has been going on unabashedly. Mr Gurmeet Judge, Secretary of the Krantikari Sabhyacharak Kendra, Ferozepur, says in almost all the villages of the state, at least one case of "buying of bride" can be found.
He says in almost every district, there are two or three touts, who operate by selling women from the other states to the landless, and also to the handicapped, who cannot find a wife. In Chaanga Khurd village, Ferozepur, TNS came across a man, who claimed to have sold off at least five girls in Ferozepur district during the past 10 years.
On conditions of anonymity, he revealed that the "girls" were available mainly during the harvesting season, when the poor from the eastern states came to Delhi to eke out a living as farm labourers. "The men are eager to sell off their wives/ daughters, for anything between Rs 5,000 and Rs 7, 000, and then go back home, without having to slog it out in the fields", he says. He says he has now left this "trade", as these girls often run away from their "husbands", and "they in turn, come back and trouble me", he adds.
As the divide between the landowners and the landless increased , and the sex ratio declined sharply, the landless found it difficult to marry within the community. No one was ready to marry off their daughters to these landless people, who were thus drawn to the touts to "buy" their wives, mainly for procreation so as to carry their family name forward.
Take the case of Gurnam Singh of Abbuwal village in Ludhiana district, who bought Rita alias Manjit from Nepal for Rs 10,000, almost 29 years ago. " I did not have any land, and was employed as a waiter in a restaurant near here. Because of being landless, I could not get married and was ageing. The manager of the restaurant had gone to Nepal to set up a new hotel and he brought Rita here and I bought her", he says.
His wife, now Manjit Kaur, informs that she hails from Virat Nagar in Nepal. "My brother died in an accident, and within a few months, my mother died of shock. My father married off my elder sister and then remarried himself. Since we were poor, it was my stepmother, who came up with the idea of selling me off, and thus getting money to build their house. I was sold off at the age of 15. I didn't know the language, food habits or the culture here. It took me two years to get used to the place and imbibe the culture. But I am still not accepted here. Now, even my own children have shunned me and prefer not to maintain any contact with me in order to gain social acceptance", she says as she breaks down in sobs.
In Kaali Arain Hathar village in Ferozepur district, Najima alias Chindoo was sold off by her husband, Sajan to Channa Singh, 20 years elder to her, for Rs 12,000. Hailing from Simoli Anandiwati village of Malda district in West Bengal, her husband of four years, Sajan, had persuaded her to move to Delhi on the pretext of getting employment. He had reportedly struck a deal with his sister, who sold off Najima to a widower and father of five daughters, Channa Singh" Little did I know that he was in collusion with his sister, Seekhi, who was herself "married" in Punjab. He sold me off to Channa Singh, but I insisted on taking my daughter, Mukhtiaro, along. Initially, Channa Singh did not object, but once we had our own children, he asked me to leave Mukhtiaro with my brother in Malda. It's been six years, that I left my daughter and have not seen her since. Though I long for my daughter, I am happy here. There is enough to eat , and because I have produced two sons, my acceptance in my husband's family is complete", she says.
Similarly, Gurnam Singh, 75, of Abbuwal village, who had "married" a girl 25 years junior to him Amarjit Kaur of Sirisa in Tejpur, Assam, while he was posted there as a sepoy in the Army, says that they have led a good life. "Social ostracisation is there, only depending on your economic condition. Since I had saved well and also had land of our own, we have not faced much difficulty", adds his wife.
But such "happy marriages" are rare. Though the women get enough to eat, their social ostracisation leaves a scar on their psyche. In most cases, these "brides" are kept in confinement for the initial three to five years, for fear that they might run away.
There are many cases, where the "wife" eloped, especially in the border areas of Ferozepore. Kashmir Singh, 30, who is physically challenged and a resident of village Lakha Haji in Ferozepur, had bought a wife, from Jharkhand for Rs 10,000 two years ago. However, his wife, ran away within six months of "marriage", and took away his savings worth Rs 5000.
Gurmel Kaur, hailing from Kalyan village of Maharashtra was sold off at the age of 14 to a resident of Abbuwal village in Ludhiana district, Ajaib Singh, who was then 32 years old. A woman from my first husband's village, Dinesh, had arranged the deal and I was sold off when I was five months pregnant. "Though my second husband accepted my child, our children, as they grew up could not accept being shunned by the other families in the village. "Though our three daughters have been married off in Punjab, there is no way we can find a decent wife for our two sons. For the society, not only are they landless, but also the next generation of a 'bought wife'. This has created a major conflict in the family", she says.
Bhagwan Singh, 65, also of the same village, who had bought Soumitri alias Harbans Kaur from Raipur in Madhya Pradesh, for Rs 10,000, in 1978, at the age of 40, and Piara Singh, 70, who had bought Amar alias Amarjit Kaur as a wife for Rs 5000, also narrate a similar story, where their next generations now face the societal wrath. In fact, Piara Singh has now sent his elder son to Germany so that he can have a better life.
Interestingly, it was only two years ago, that Amar and Soumitra , found out that they were real sisters. Says Amar, "I had heard that Soumitra was also from Raipur. One day, I went to her and we started discussing about our family back home. We realised that the names of our brothers was the same, and we thus realised that we are sisters. Now, at least we have each other to fall back on in times of distress".