Shehnai maestro honoured
Renowned shehnai maestro, Ustad Bismillah Khan was presented with the coveted 'Aadharshila Shikhar Award' at a glittering function here. Presenting the award to the maestro, the former Prime Minister, Mr I. K. Gujral, said the Ustad had taken this little-known instrument to the highest form of classical art and has preserved its pristine purity through his dedicated rendition for over half a century now.
Mr Gujral said that shehnai used to be played at marriage ceremonies, but the greatest contribution of Ustad BismillahKhan has been in bestowing this traditional Indian musical instrument its classical purity.
President of Aadharshila, Pradeep Sardana said that Ustad Bismillah Khan is the 'Shahenshah of Shehnai' and the organisation feels privileged in honouring him with this award. Ustad Bismillah Khan was presented with a trophy, citation and a shawl.
Visibly overwhelmed by this honour, he said, it was nice to know that there are still people in our midst who hold art and music in high esteem. Union Minister Saheb Singh Verma also attended the function and spoke highly of the Ustad.
Celebrating India's cultural heritage and influence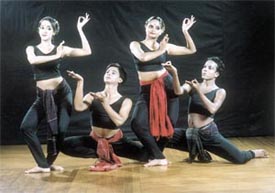 A dance performance to highlight the influence of Indian culture.
The Centre for Indian Classical Dances staged 'Asmita: A Celebration of Indian Identity', to highlight the cultural influences of Indian consciousness and identity.
Bringing together nation's three cultural icons for the first time ever-Sonal Mansingh (Producer and Director), L. Subramaniam (Music Director) and Kavita Krishnamurthy (Lead Playback Singer), `Asmita' mapped the landscape of the Indian worldview through exploring range of Indian thoughts in the fields of philosophy, religion, myth, legend and science.
Presented in five segments, 'Asmita' explored Indian concepts, symbols and metaphors like bindu (dot), shunya (zero), saptanadis (seven rivers), the symphony of religions in India, culminating in sangam-a confluence of live music, song and dance with the lead artists.
Parikrama at Shoppers' Stop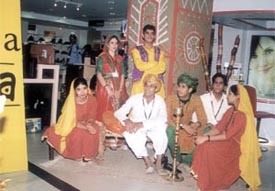 A folk dance group at Shoppers' Stop.
Shoppers' Stop, the lifestyle-shopping destination has once again launched 'Parikrama'-a festival to redefine, celebrate and enjoy Indian culture. The theme this year is based on the concept of 'Mela', the ubiquitous activity, which binds the people of this country together.
Spread over a period of seventeen days, from August 8 to August 24 and across its 13 stores around the country, 'Parikrama Mela' will see Shoppers' Stop buzzing with fun and festivities. Artists from different states of India are showcasing their unique talents.
Dance, music, magic and puppet shows along with palmists, bangle maker, kite maker, bead maker, lamp maker, toy maker, rangoli and mehendi artists will showcase their talents-a veritable feast of art, crafts and culture.