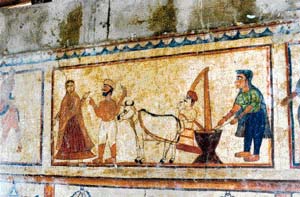 The painting of a traditional oil mill in a chaupal in Balambhal village
There is an abundance of wall paintings in the towns of Bhiwani and Kanaud (now Mahendragarh) which are still awaiting to be saved. In fact, wall paintings which exist in villages and small kasbahs of Haryana far outnumber those found in towns. This author could find considerable number of wall paintings in a little over 300 villages, towns and kasbahs of Haryana. In addition, wall paintings were also found in the havelis and abandoned palatial buildings of former rulers, zamindars and officers of the courts of erstwhile rajas and nawabs. The quality of brush strokes, the line-work and colours differed as per the style of the artists who were locally called chiteyras. In the beginning, artists were summoned from the neighbouring thikanaas of Rajputana but as time passed, local masons also learned the art and did the work with such dexterity as was seen in their places of origin. Pandit Lal Chand of Beri kasbah, some 20 kms south of Rohtak town, was a master chiteyra and attained excellence in his late twenties. The excellent wall painting work of 'foreign' as well as local chiteyras can still be seen in many temples, mutts, havelis, cenotaphs, chaupals, wells and palaces scattered all over Haryana. I could find such work in villages such as Farmana Khaas, Balambha, Baliana, Karauntha, Bhaini Chandrapal, Ajaib, Bhaini Surjan, Samman, Lakhan Majra, Khidwali, Kharenti, Asthal Bohar, Beri, Meham, Ismaila and Nindana (in Rohtak district); Barwa, Bahal, Jui, Dhanana Talu, Baund, Kharak Kalan, Kelanga, Bapora, Jhojhu Kalan and Siwani (in Bhiwani district); Asan, Dulhera, Asaudha, Chhara, Ladain, Dighal and Salhawas (in Jhajjar district); Kithana, Pabana, Pabnava, Kaul, Fatehpur & Pundri, Balu, Serdha and Rehda (in Kaithal district) Gatauli, Nangooran, Jhanjh Kalan, Bibipur, Pandu Pindara, Barah Kurd, Chhattar and Alewa in Jind district; Kanina, Kanti, Jerpur- Mandaula, Niwajpur, Garhi Roothal, Garhi Mahasar, Gujjarwas and Tajpur in Mahendragarh district; Pehwa in Kurukshetra district; Sulkha-Bilkha, Seeha, Kanwali and Meerpur in Rewari district; Farrukhnagar in Gurgaon district; Banchari in Faridabad district; Chhacchrauli and Buria in Yamunanagar district; Naultha in Panipat district and Gujjar Kheri, Purkhas, Satawali, Rohna, Khanda (Sehri) in Sonepat district and Baini Amirpur, Sultanpur (Umra) and Ladwa in Hisar district. Besides, excellent work in wall paintings was also seen in old havelis of bania community at Kalanaur, Tusham in Bhiwani, a Shiva temple at Sampla, temples built on the banks of Kapil Sarovar at Kalayat, Dadri town in Bhiwani district, Jain Temple at Gohana in Sonepat district and Narnaund in Hisar district. If one wishes to see wall paintings in the style of Shekhawati, one will not be disappointed at Bahal and Barwa, both in the district of Bhiwani. According to a rough estimate, there are at least 20,000 wall paintings still available on buildings at Bhiwani town alone. Many a building on which I found wall paintings and documented them in the last 15 years do not exist now. They were either lost during dismantling of the buildings or defaced.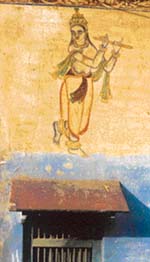 A sketch of Lord Krishna in a haveli in Dighal village
While the trading community of Aggrawal banias used to engage the chiteyras for decoration of their havelis, nauhras and memorial cenotaphs, the Nath Jogis engaged them to paint the walls and ceilings of their mutts and chhattaris of Siddh Jogis who were their mentors or Gurus. One such fine example is the memorial cenotaph of Baba Tota Nath in the premises of Asthal Bohar Mutt near Rohtak town. Another fine example of a Chhattari having excellent wall paintings even of today is of Seth Nand Ram of Katlawalah at Bhiwani. In fact there are not less than 10 such memorial cenotaphs in Bhiwani town alone which still have wall paintings of some consequence. Two such memorial cenotaphs worth mentioning are at Farrukhnagar and Sulkha-Bilkha. At the former place it is known as Sethani Kei Chhattari and at later Baba Keso Das kei Chhattari. In fact, the style followed in a 150 years old Chhattari at Farrukhnagar is that of Haroti or Jaipur. It appears that the chiteyras who accomplished this fine work came from Haroti region. The wall paintings in the Chhattari of Baba Keso Das are done in pure ochre and are still recognisable. Nowhere else in Haryana I could find wall paintings done in pure ochre. For historians of art, Chhattari of Baba Keso Das is a sort of treasure house.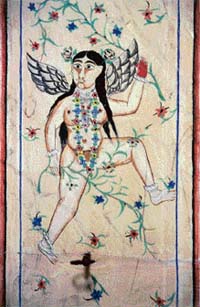 A painting adorning the ceiling of a haveli in Barwa village
The subjects taken by the chiteyras were numerous. The socio-religious practices prevalent at the time could have determined the choice of subjects. It appears that the chiteyras were free to choose subject-references for their paintings from the Pauranic texts and classics such as the Mahabharata and the Ramayana. Subjects and contexts from local life were also included in the scheme of things once local artists got involved. From the mid-19th century to the first quarter of the 20th century when the work of doing wall paintings was available in plenty, they could have made up their mind to exclusively adopt this profession. In an enthusiastic competition thousands of havelis and quite over a million wall paintings might have been done during this period in Haryana alone.
The chiteyras were alive to the visual needs and temperament of the owners of the buildings. The themes and subjects chosen for buildings were different as per their usage and purpose. For example, the subjects of wall paintings for a chaupal, a community building, was somewhat different from those done in a cenotaph or a temple. In Bhadar Kaali temple, in the premises of Kali Kamali at Brahmsarovar in Kurukshetra, some subjects from the mythical tantra practices in the Hindu religion were also done. Keeping in view the character of the Goddess Kali, the chiteyras put in their skills in doing paintings of the tantric order. But these exist only in the upper terraces and not in the garbh grihya or the sanctum sanctorum of the Bhadra Kali temple. While in the cenotaph of Baba Tota Nath at Asthal Bohar, besides events and characters from the Pauranic period, wall paintings depicting ragas, rasas and Nath Sadhus also co-exist.
Not only are the line work relating to the wall paintings in the cenotaph of Baba Keso Das at Sulkha-Bilkha village different from others of the genre but also different in topics covered and the style of doing. While a great number of figures were done in free-hand and without decorative borders, an equal number was depicted elsewhere within decorative frames; whether it were the ceiling, vault or a plain wall. While erotic wall paintings were done selectively in private rooms of havelis in Shekhawati region, the subjects were deliberatively avoided in Haryana, excepting Barwa where pseudo-erotica were done on the ceiling of a room. It was unusual for me to see wall paintings depicting the hookah and period jewellery-laden ladies in the sanctum sanctorum of a temple at Nangooran. Wall paintings in some temples around villages in Kurukshetra, Kaithal and Meham (in villages of Meham Chaubisee), Bhiwani and Narnaul were excellent. In a temple situated in remote village like Jhojhu Kalan and within the old Narnaul city, the paintings were highly decorative in style.