Global vignette
France has more women judges
More than 80 per cent of France's judges are female, and the government is considering ways of correcting the imbalance, says Adam Sage.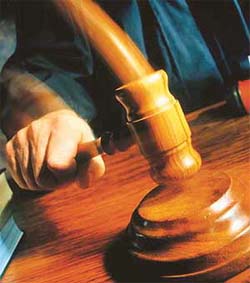 FRANCE is considering positive discrimination to bring about a more equal balance of the sexes among the country's judges. The eyecatching aspect is that the aim is to attract more men into a judiciary dominated by women. When French Justice Minister Dominique Perben visited the national college for trainee judges this year he noted that men have become a small and endangered minority in the French judiciary, with woman comprising more than 80 per cent of those entering the profession."If this continues, it could cause a problem," said M Perben, adding that he may have to introduce quotas into the appointment system despite the lack of appetite in France for positive discrimination.
Women apply in far greater numbers than men for judicial posts, and they perform better in their examinations and interviews, M Perben said. "The women are more serious in their approach, harder working, more determined and they are stick it better," said M Perben. "All in all, I have to accept that they are of a better standard."
Last year, for example, 1,576 women and 477 men sat the entrance examination to the Ecole National de la Magistrature (ENM), the college from which all would-be judges and prosecutors have to graduate in France.
The women's pass rate was 11 per cent and the men's eight per cent, meaning there were only 38 men among the 220 on the course. Nathalie Gavarino, who graduated this year, said: "I think the girls are better prepared and don't waste so much time with other things. Basically, the boys think about girls and the girls think about working."
An egalitarian appointments process for the judiciary, based on examinations, was introduced at the end of the 1950s. Change was slow, largely because women thought they had no place in what was then a male-dominated profession.
But gradually they started to outperform men and by the 1980s, women were in a majority and the proportion has gone on rising since then. M Perben declines to elaborate on why he thinks the imbalance creates a problem. Mme Gavarino, who is 38, says: "I think the ministry is worried that if all these new judges become pregnant and take maternity leave there could be an administrative headache and they would have trouble finding judges to sit in the courtrooms."
Francoise Toillon, 40, who graduated with Mme Gavarino, completed the final stage of her course as a trainee at the children's court in Lille, northern France. She said: "When a man is accused of sexual aggression, for instance, often his lawyer is a woman, the judge is a woman, and the prosecutor is a woman and he comes away thinking that all this is a women's conspiracy against him.
"In French courts, about 80 per cent of defendants are men. If 80 per cent of the judges are women, then I suppose there is a problem" Yet both Mme Gavarino and Mme Toillon reject a quota system. "There was never any question of quotas for women when a majority of judges were men," said Mme Gavarino.
Veronique Imbert, the vice-president of the Magistrates' Union, agreed, adding: "There is no evidence that women carry out their role as judges in a different way to men." But she added: "I have to accept that it is not healthy when a profession is overwhelmingly single-sex, whether it is men or women. We must find ways of getting men back into the judiciary, but quotas is not one of them. We must encourage them, but we must not appoint any old idiot just because he happens to be a man."
Gilbert Azibert, the director of the ENM, who has commissioned a survey in a bid to discover why he had so few male candidates, said: "Men seem to be shunning the judiciary, and that is worrying." He pointed out that male students were in a minority at law faculties in French universities, and where men graduated, they tended to become lawyers, a different career path to that of the judiciary in France. One reason was pay, with lawyers tending to earn up to three times as much as judges, whose salaries start at about `A3 25,000 a year and reach `A3 40,000 after ten years' experience.
Mme Toillon said women were attracted to the job security of the judiciary—including paid holidays and maternity leave—which has a status similar to that of the civil service. "For the men, the remuneration is important. But if you want to become a judge, the most important thing is to want to serve the State, and perhaps women are more motivated by that idea. If you are a lawyer, then you are a private practitioner and you don't have those benefits."
However, the picture is not absolutely straightforward. While the lower and, increasingly, the middle echelons of the profession are occupied by women, the upper stratas are not. Among appeal court judges, for instance, men are in a majority. One explanation is that such judges tend to be older, often in their 50s, and often having entered the judiciary 30 years ago, when there were still more male candidates than women. If this explanation is correct, the women should come to dominate the appeal courts in the decades ahead.
But Nathalie Gavarino, who, like Mme Toillon, is about to take up a post as a judge, has her doubts. "Men are more ambitious and careerist. They tend to hang around late, even if they've not got anything much to do, just to impress the Chief Prosecutor, for instance. Promotion is much more important to them."