NDA govt a colossal failure, says Sonia
Tribune News Service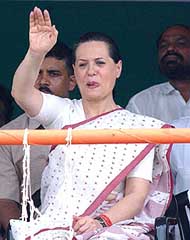 Congress President Sonia Gandhi waves to the crowd after inaugurating the Rajiv Gandhi Stadium at Bawana in Delhi on Saturday. — PTI photo

New Delhi, August 23
Continuing from where she had left off while speaking during the no-confidence motion in the Lok Sabha earlier this week, a combative Congress President Sonia Gandhi today dismissed the four-year rule of the National Democratic Alliance (NDA) as a "colossal failure" for compromising the security of the nation and chided the Bharatiya Janata Party (BJP) for blaming the Congress for all its failures.
Reiterating the issues raised in her nine-point charge sheet against the Vajpayee government, Ms Gandhi told the well-attended rally of Congress supporters in Bawana on the outskirts of Delhi that the nation was better off when the Congress was in power. The NDA, she said, had neither been able to match the achievements or carry forward the progress started by the earlier Congress governments.
In an oblique reference to the BJP's 'theme song' of the NDA government improving the image of the nation abroad, Ms Gandhi said nothing would have been possible without the progress initiated by the previous Congress governments. "If now we are in a position to compete with the other nations of the world, it is because of the Congress," she asserted.
"The BJP is a corrupt party which has played havoc with national security, ruined farmers and spoiled the career of youth," she said, launching a frontal attack on Prime Minister Vajpayee. She criticised him for giving "half-baked" and "elusive" replies to the issues raised by the Congress in the nine-point charge sheet during the debate on the no-confidence motion.
Justifying her decision to move the motion, she said the Congress would never condone the government's laxity as criticism was a natural corollary to parliamentary democracy.
Questioning the BJP's policy of dismantling the Congress legacy of encouraging public sector for economic consolidation, she said the nation ought to know why PSUs were being sold off for a song and to whom.