582-cr package for J&K
Create atmosphere for talks, PM asks Pak
Tribune News Service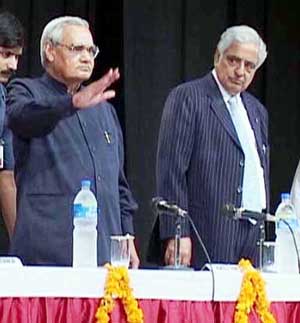 Prime Minister Atal Bihari Vajpayee, along with Jammu and Kashmir Chief Minister Mufti Mohammad Sayeed, at a civic reception hosted at Abhinav Theatre during his visit to Jammu on Friday. — PTI photo
Jammu, August 29
A package of Rs 582 crore for Jammu and Kashmir was today announced here by the Prime Minister, Mr Atal Bihari Vajpayee. He also promised the Centre's help for tying up an amount of Rs 2,200 crore for the completion of the Baghliar power project.
Mr Vajpayee announced a one-time special grant of Rs 30 crore for the development of Jammu University and its affiliated colleges.
He said a sum of Rs 175 crore would be spent for providing drinking water to 2,284 habitations and 1,400 schools in kandi areas.
In view of the difficulties being faced in supplying electricity to the tribal area of Ladakh, he said a 220 KV single circuit transmission line from Srinagar to Leh would be laid at a cost of Rs 300 crore. The transmission line would be laid by the Powergrid Corporation of India and the funds would be provided by the Centre.
He announced an increase of Rs 150 per person per month in the financial relief to Kashmiri Pandit migrants from the valley. They will now get Rs 750 per person a month instead of Rs 600, subject to a maximum ceiling of Rs 3,000 per family. This will involve an additional expenditure of Rs 10 crore per annum.
As many as 504 leaking tenements of Kashmiri migrants in Muthi Phase II will be replaced with 500 new tenements, costing Rs 10 crore. In addition, Rs 5 crore will be provided for other facilities in 14 Kashmiri migrant camps in the Jammu region.
Mr Vajpayee granted Rs 7 crore for shifting to safer places 541 families of the Balakot area in Poonch district which face frequent shelling by Pakistani troops. Nine colonies will be set up for them in consultation with the Army authorities.
He announced a one-time grant of Rs 45 crore for the construction of 10 Kendriya Vidyalayas in the state within three years.
The Prime Minister said out of the project cost of Rs 3,800 crore for the Baghliar power house, about Rs 1,600 crore had been spent by the state government and Rs 2,200 crore would be tied up with financial institutions.
The Sewa-II power project of 120 MW capacity of the NHPC, costing Rs 665 crore, had been sanctioned.
Mr Vajpayee expressed satisfaction on the implementation of the earlier two packages of Rs 14,944 crore.
Meanwhile, Mr Bhim Singh, Chairman of the Panthers Party, submitted a memorandum to the Prime Minister suggesting that only reorganisation of the state could satisfy residents of all three regions of the state and ensure a legitimate share in all fields.
He demanded that the problems of the 1947 refugees should be solved without delay.
He demanded a job package for the youth and said Dogri should be included in the Eighth Schedule of the Constitution.
Earlier, the Prime Minister said that no meaningful dialogue between India and Pakistan was possible unless cross-border terrorism and killing of innocent people were stopped.
He said the Hurriyat Conference should not insist on formal talks with the Centre, but should respond to the invitation for an informal dialogue first. He said, "We are ready to talk even to the Hizb-ul-Mujahideen in case it shuns violence."
Mr Vajpayee was talking to mediapersons here this afternoon during his brief visit to Jammu while on his way back to New Delhi from Srinagar.
He said first an atmosphere for a meaningful dialogue had to be created by Pakistan. He said he had extended a hand of friendship to Pakistan thrice, hoping that it would reciprocate his gesture. He said some progress had been made in normalising relations between the two countries.
Mr Vajpayee said he was not in favour of rushing through the process for restoring friendly relations with Pakistan. "We have to be cautious in our approach and go step by step. Although the progress in this direction is slow, but it is wise to take everything into account," he said.
He said the terrorist attack in Srinagar where the Inter-State Council was held and the terrorist activities on the Line of Control (LoC) indicated that normalcy was yet to return and without that no purposeful dialogue could be held between the two countries.
To a question regarding the demand of the Chief Minister, Mufti Mohammed Sayeed, that road links with Pakistan from Uri in Kashmir and Suchetgarh in Jammu should be opened, Mr Vajpayee said no concrete proposal had so far come from the state government and the issue would be considered only after a proposal was submitted.
He said he had always taken the initiative for normalising relations with Pakistan. He first of all went to Lahore in a bus, thereafter General Musharraf was invited to Agra and the third time he offered peace talks during his visit to Srinagar in April.
Stepping up of trade was in the interests of both countries. Pakistan should allow trade through the road route as India was willing to supply goods on the doorstep. Things had started in the right direction with the appointment of Ambassadors in both countries, but there were some impediments in restoring the air services which, he hoped, would be cleared soon.
The Prime Minister said steps were being taken to meet the demand for inclusion of the Dogri language in the Eighth Schedule of the Constitution.
To question on the political developments in Uttar Pradesh, Mr Vajpayee said the BJP was sincere in the alliance with Ms Mayawati, but such developments took place in politics.
He said it was an era of coalition governments and even the newly inducted Chief Minister was looking for coalition partners to sustain his government.