Two terrorists of Jaish-e-Mohammad killed in Delhi
Tribune News Service and PTI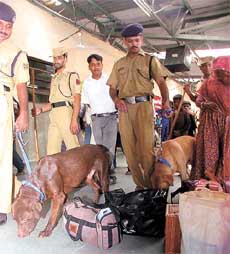 Police dogs sniff for explosives at New Delhi railway station after a bagful of gelatine sticks were found there on Saturday. — Photo Mukesh Aggarwal
New Delhi, August 30
After the encounter in Srinagar this morning, threat to the Capital was also exposed when the Delhi police captured a truck full of explosives and weapons in the Central Delhi and later killed two Jaish-e-Mohammad terrorists, including a Pakistani national, on Ring Road in South Delhi late tonight.
Acting on a tip-off, the police seized a truck full of explosives in the Sadar Bazar area late in the evening. On questioning the driver and the cleaner, it was revealed that the explosives and the weapons were to be handed over to two Jaish-e-Mohammad terrorists.
Delhi Police Joint Commissioner Neeraj Kumar said the police then laid a trap at the Millennium Park in the Nizammudin area. When a white Maruti car came near the park at about 8 pm, the police signalled the vehicle to stop but the occupants abandoned it and tried to escape.
In the encounter that followed in the park, the two were gunned down. The police seized two Chinese-made pistols from their possession. The two were identified as Habibullah of Uttar Pradesh and Mumtaz of Pakistan. Further investigation was in progress when the reports came in.
Earlier, a tragedy was averted today with timely detection of a huge quantity of explosives at the New Delhi railway station here.
"A bag containing 150 gelatine sticks weighing 21.2 kg was detected at an area between Platforms 6 and 7 during routine random checking at about 11.45 am," the Deputy Commissioner of Police (Crime and Railways), Mr Dependra Pathak, said.
The unattended bag made two policeman suspicious. Bomb detection and disposal squad and sniffer dogs were called to the spot and an examination confirmed it to be gelatine.
The explosive was enough to cause a huge damage at the station, considering that hundreds of persons are present there at any time.
No arrest has been made, but a number of persons have been questioned to obtain a clue.
Meanwhile, at the Nizamuddin railway station here, a man was detained by the police within 30 minutes of the detection of gelatine at the New Delhi railway station. Rs 77 lakh was seized from the man who identified himself as Ram Rai.
He allegedly offered upto Rs 5 lakh in exchange of release to three policemen — Head Constable Sri Pal and Constables Zaman Khan and Jetendra — who had caught him. The policemen turned down the offer. — PTI