DPCC rally for rollback of hike
New Delhi, September 2
The Delhi Pradesh Congress Committee (DPCC) has demanded the rollback of the hike in the prices of petrol and diesel. Supporters of the party on Tuesday held a sit-in and courted arrest near the Parliament Street police station.



Leaders of Delhi Pradesh Congress Committee during the protest against the NDA Government on the issue of hike in the prices of petrol and diesel at Jantar Mantar in the Capital on Tuesday. — Photo by Kamal Singh


Gurgaon girl attends American Presidential Classroom
Gurgaon, September 2
Radhika Bedi, a resident of the city, was among the students from all over the world selected to attend the 'American Presidential Classroom - Future World Leaders Summit'. The summit was held last month in Washington DC.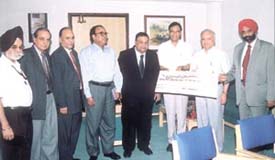 Mr S. S. Kohli, CMD, Punjab National Bank, presenting a cheque of Rs 74. 28 crore as dividend for 2002-03, to Mr S. S. Sisodia, Secretary, Banking & Insurance in the Capital.
Cong all set to corner govt in Assembly
Rohtak, September 2
Mr Bhupinder Singh Hooda, leader of the Opposition in the Haryana Assembly, has announced that the party would introduce adjournment motions on at least five major issues in the Assembly session to be held from September 9.
Greenpeace gets assurance on bio-safety norms
New Delhi, September 2
Greenpeace activists surprised Dr Manju Sharma, Secretary, Department of Bio-Technology (DBT), with a house-call this morning, bearing baskets of indigenous potatoes and a banner stating "GM potatoes no solution to malnutrition".
SPECIAL FOCUS ON GURGAON
PHDCCI stresses need for special economic zones
Gurgaon, September 2
The president of the PHD Chamber of Commerce and Industry (PHDCCI), Mr P. K. Jain, underlined the importance of special economic zones and free trade zones to make the industry cost competitive in the present environment the world over.
Motorists go through hell on Sonepat roads
Sonepat, September 2
It is the same old story. The pathetic condition of the Sonepat's roads continues to cause nightmares to the people of the city.
Man faces the music for duping Gaushala
Sonepat, September 2
The executive committee of the Dharmarth Gaushala of Sisana village has reportedly penalised a person of collecting donations in the name of Gaushala by issuing fake receipts.
Three mowed down in sleep
New Delhi, September 2
A trailor, whose driver lost control of the vehicle, ran over five persons sleeping on the pavement of Ring Road in Kirti Nagar in West Delhi, killing three of them on the spot and injuring two others last night.
NCR BRIEFS
Plot to loot liquor vend, five held
Sonepat, September 2
The Civil Lines police arrested five youths while they were planning to loot a liquor vend near the ITI here last night. According to a report, the youths were identified as Sonu of Kalupur village, Raj Kumar and Bijender of Balia (UP), now living in Gian Nagar, Rambir of Bandepur village and Rajoo, alias Mustafa, of Eight-Marla Colony of Sonepat.
Kidnapped girl rescued

Probe into sarpanch's deeds sought

'Stop issuing permits to autorickshaw owners'

Rally against 'misrule' of Chautala govt on Sept 4
DELHI DIGEST
Info kiosks at DDA offices
New Delhi, September 2
To reach the consumers more effectively, the DDA has decided to put up information kiosks at Vikas Sadan and Vikas Minar. The kiosks will help create the facility for dissemination of information available in the DDA datebase, including allotment status and payment schemes.
Book on vibrant India

Dense carpeting work

Traffic awareness camps
Cleanest city a 'joke'
New Delhi, September 2
Chandni Chowk MP and Union Minister of State Vijay Goel said that felicitation of the Delhi Government with the cleanest Capital Award is a joke on the people of the Capital.