HOROSCOPE
BJP verdict against Mulayam
New Delhi, September 5
The BJP today decided to issue a whip to its MLAs in Uttar Pradesh to vote against the confidence motion to be moved by Chief Minister Mulayam Singh Yadav in the state Assembly on September 8.
Kathua encounter on, no breakthrough
Ghatti (Kathua), September 5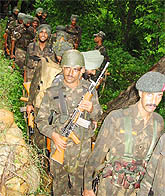 Sporadic exchange of fire between the Army and the seven holed-up militants continued here for the fourth day today.


Editorial: Longest encounter

J&K page: Militancy gains momentum

Jawans search for holed-up militants in the forests of Ghatti village in Kathua on Friday.
— Tribune photo Sarabjeet Singh

SC pulls up Punjab on Sikh judicial panel
New Delhi, September 5
The Supreme Court today took strong exception to the Punjab Government's act of filing 'incorrect' copies of the Punjab and Haryana High Court's order in the Sikh Gurdwara Judicial Commission case before it and directed it to file an affidavit within a week to explain the reason for the lapse.
TRIBUNE SPECIAL

State of universities
The Tribune has a close look at the state of universities in Punjab, Haryana and
Himachal Pradesh

THE TRIBUNE MAGAZINES
On alternate Mondays

On Sundays
On Saturdays
IN PASSING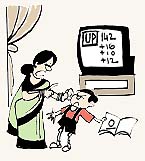 Switch off the TV. These numbers are making your sums go wrong.

by Sandeep Joshi
Kalam honours 282 teachers
New Delhi, September 5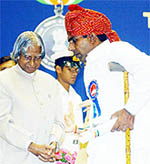 President A.P.J. Abdul Kalam today honoured 282 teachers on the occasion of Teachers' Day and hailed them as vital members of society who instil knowledge and nobility generation after generation.
President A.P.J. Abdul Kalam after presenting the National Award to Mr Sultana Ram, a teacher from Rajasthan, in New Delhi on Friday.
— PTI photo

Teachers grooming destitute kids honoured
Amritsar, September 5
Teachers' Day was celebrated in a unique way in Maqboolpura, a locality of widows, where 150 breadwinners died due to drug addiction.


25 hurt in Godhra violence, curfew imposed
Godhra, September 5
Nearly 25 persons were injured when violence broke out here this evening during the Ganesha idol immersion procession, forcing the police to impose indefinite curfew at 5.30 p.m.


Human rights, the mother of all rights, says Justice Pathak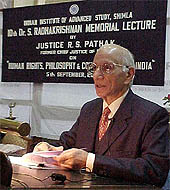 Shimla, September 5
Mr R.S. Pathak, former Chief Justice of India, today said human rights were of vital importance due to their universal and fundamental nature and the fact that all other rights flowed from them.

Justice R.S. Pathak addresses a gathering on the "Tenth Radhakrishnan Memorial Lecture" at the IIAS, Shimla, on Friday.
— Photo Anil Dayal

In Sports Tribune today
Kalam calls for second Green Revolution
September 5, 2003

Govt clears 8000-cr Hawk deal
September 4, 2003

Day of terror in J&K
September 3, 2003

SC refuses to stay Babri trial
September 2, 2003

Five arrested for Mumbai blasts
September 1, 2003
Mastermind of Parliament attack Gazi Baba killed
August 31, 2003
582-cr package for J&K
August 30, 2003
Article 356 to be used only with safeguards
August 29, 2003
39 killed in Nashik stampede
August 28, 2003
Mayawati resigns, Mulayam stakes claim
August 27, 2003
Mumbai panics as twin blasts kill 46
August 26, 2003