I Love Paris — Various Artists
(Times Music) **
The compilation is full of rare gems and outstanding music reminiscent of Fashion TV's music. The album features such catwalk ready tracks as Color of June by Purple Avenue, Something About U by Eric Paque, Les Reves D' Alice by DJ Kodi, Life Style performed by David Grumel, 100 Heures by DJ Sonic and Es Vedra by Alchemic Storm, all of which set a lively tone without becoming too busy or fading into musical wallpaper.
Darius — Dive In
(Universal) **
The fact that Darius auditioned for Popstars and ranked No. 3, has already made him a household name. Dive In is an album of great maturity for an artist who's just 22. Colourblind kicks off proceedings in a gentle, poppy guitar-driven sense with easy lyrics and a memorable chorus and turns out to be a tentative test song for what lies ahead. The real surprise comes with the title track, that opens with an irresistible chorus: "Take a long shot and give it all you've got / You'll never know unless you try." Dive In is without a doubt one of the better pop albums released this year. Darius' honeyed baritone and warm Scottish charm would probably be enough to win the album a fair audience.
Album of the month
50 Cent — Get Rich or Die Tryin'
(Universal)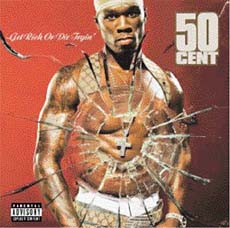 Well, we first acquainted ourselves with 50 Cent, when we heard How To Rob and our thoughts about that song was that this guy was the craziest nut in the industry. That was the only thing we had heard from the self-proclaimed "Brooklyn Bad Boy" until the recent 50 Cent mania that has taken the entire music world by storm. Unlike unscathed storytellers, 50 has been a victim of violence himself. He was shot at nine times in 2000 and has been stabbed and beaten repeatedly since then. Last fall, his mentor Run-DMC D.J. Jam Master Jay was killed at his recording studio in Queens. The platinum hit-makers Trackmasters took notice of 50 and signed him to Columbia Records in 1999. Get Rich or Die Tryin' is symbolic of the quality of modern mainstream hip-hop. The album is stocked with spangly, rough beats, arena-sized shouts and 50s' undeniable vocal skills. 21 Questions is probably going to be one of the most interesting cuts on the album — with free-flowing guitar licks in the background, where 50 asks if he lost his fame and riches would a girl still love him. Though sometimes raw, as he can drop crude lines like "I love you like a fat kid love cake", it's quite an enjoyable track, enhanced by Nate Dogg on the hook. Like My Style is a livelier stab at luring people onto the dancefloor. Promising an LP of the calibre of rap classics like Ready To Die, Illmatic and Reasonable Doubt, 50 Cent's debut is all out to set the pace for hip-hop in coming years.
— Saurabh & Gaurav


The Grrr…eat Music Zone Quiz
1. What does India Arie compare herself to in the song Brown Skin?
2. Before forming Asher Love, what band was Casey Hess a part of?
3. Which song has been the biggest hit for Alphrodite's Child till date?
4. Which Rock n' Roll guitar pioneer did Art of Noise collaborate with and eventually won a Grammy for Best Rock Instrumental?
5. What is the band Kara's Flowers now known as?
6. With which female R&B artist did KiCi and Jojo work on the song I See You In A Different Light?
7. What Shakespearean play is mirrored on the Kinks' Scum Of The Earth?
8. Which rock star appeared on Toby Keith's I'm So Happy I Can't Stop Crying?
9. In 1967, which artist had a big hit with the Carole King song Natural Woman?
10. Apart from Rage Against The Machine and Soundgarden, which other two bands have an association with the members of Audioslave?
Answers
1. Almond Joy
2. Wits End
3. Rain and Tears
4. Bo Didley
5. Maroon
6. Shante Moore
7. The Merchant of Venice
8. Sting
9. Aretha Franklin
10. Temple of the Dog and Lockup
Top 10 singles
1. Shake Ya Tailfeather Nelly, P.Diddy & Murphy Lee (NM)
2. Right Thurr Chingy (FD)
3. Crazy In Love Beyonce feat. Jay-Z (CU)
4. Unwell Matchbox Twenty (CU)
5. Get Low Lil Jon & The East Side Boyz (NM)
6. In Those Jeans Ginuwine (FD)
7. My Love Is Like`85 Wo Mya (NE)
8. Where Is The Love Black Eyed Peas (NM)
9. Are You Happy Now? Michelle Branch (CU)
10. Thoia Thoing R.Kelly (FD)
(CU): Climbing up (FD): Falling down (NM): Non-mover (NE): New entry