Dairying no more viable
Manoj Kumar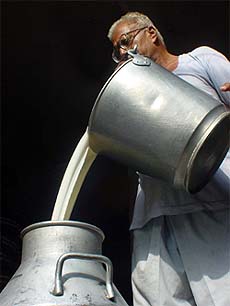 Ebbing flow? — Photo Pradeep Tewari
THE government and a section of the media are looking at the current milk supply crisis in Delhi as a temporary phenomenon, apparently caused by a conflict between the National Dairy Development Board and the Gujarat Cooperative Milk Marketing Federation. However, dairy experts in Punjab claim that it is a sign of a deepening crisis.
The current situation has exposed the crisis in the dairy sector, particularly in Punjab — one of the largest milk producing states. The blame goes largely to lack of reforms in the dairy sector and inefficient milk processing plants.
Declining profits
Mr K.S. Aulakh, Vice-Chancellor, Punjab Agricultural University, Ludhiana, says, "During the past four or five years, profit margins of milk producers have come down drastically. While the total cost of inputs like fodder, cattle feed and vaccinations has gone up manifold, the price of milk has increased only marginally. Lack of quality check on cattle feed has also resulted in lower milk yields."
According to Prof H.S. Shergill, a senior economist in the Department of Economics, Panjab University, Chandigarh, "The cost of dairy animals has increased substantially over the recent years. Also, a section of non-land-owning milk producers, who used to purchase fodder from farmers, have also shifted away from dairying. On the other hand, several farmers now prefer private dairies over milk plants to sell their milk due to the price difference and hassle-free payments."
Inefficient plants
Blaming the inefficiency in cooperative milk plants, Prof Aulakh says, "Most of them are earning profit by procuring milk at rates much lower than what they charge the consumer. With the increasing competition from private plants and vendors, they are now facing a shortage of supply. Most of them are not able to run at even half their capacity."
Ms Raji P. Srivastava, Managing Director, Milkfed, says that owing to the drought-like situation in the state last year, a large number of milch animals could not conceive in time, resulting in delay in their calving, and consequently fall in milk production. She says though Milkfed is earning a nominal profit of about Rs 2 crore annually, the accumulated losses of the district milk cooperative unions has crossed Rs 104 crore.
All the 11 milk plants in the cooperative sector, excluding those of Ludhiana and Ropar, are now running into huge losses. The handling capacity of the cooperative plants in the state is about 17 lakh litre per day, and of private plants 60 lakh litre, but they are operating at 50-60 per cent capacity.
Fall in procurement
Claims Ms Srivastava, "Following reduced production, the procurement by Milkfed during 2003-04, up to July, in Punjab was 11 per cent less as compared to the corresponding period last year. Similarly, during August, the procurement is down by 16 per cent. On the other hand, the demand for liquid milk has increased by over 10 per cent, resulting in a demand-supply gap of over 20 per cent in the state."
As per the Department of Animal Husbandry, milk production in Punjab steadily increased between 1980-81 and 1999-2000. It increased from 51.42 lakh tonnes in 1990-91 to 77.06 lakh tonnes by 2000. But in the subsequent year, it increased only marginally to 77.74 lakh tonne, and to 79.30 lakh tonne in 2001-02. In 2002-03 it was about 77 lakh tonne, registering a negative growth rate of about 3 per cent as against the 3 per cent growth registered during the previous year.
Pricing policy
Prof Aulakh says, "Unlike India, in the developed countries you do not pay more for high-fat milk that is not good for health. The government should ask Milkfed and other agencies to pay on the basis of protein and bacteria count in the milk to promote scientific dairy farming."
About two years ago, reports regarding import of milk powder at low prices had started to erode the confidence of the domestic milk-processing industry and producers. During that period, neither did the government give due attention to improving the competitiveness of domestic milk producers, nor did milk-plant managements in the cooperative and private sectors make efforts towards efficiency.
What to do?
Mr Chanan Singh, Director, Punjab Dairy Development Board, says: "We need a thorough analysis of the dairy sector and a strategy to cut down the cost of milk production and to enhance the yield. I doubt if the nominal hike of 92 paise per litre would be adequate to encourage farmers to continue with dairying."
Prof Shergill proposes, "To cut down the cost of dry fodder, which is near Rs 200 per quintal, the government should contemplate subsidising the labour employed for harvesting wheat and paddy." He says due to the cost factor, most farmers go for harvesting through "combine" machines, which does not yield straw for fodder.
Prof Aulakh adds, "We need to produce internationally accepted milk and high-value products by investing in animal research, plant technology and better management. We should encourage high-yielding buffalo milk production as against cows, since they also fetch high premium in the international meat market."