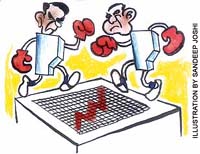 Originals inked out
Peeyush Agnihotri
REFILLED ink is smudging inkjet printer companies' sales projections. While consumers are elated and refilling companies are enthused, printer companies are crying foul. Earlier, when inkjet printer's cartridge used to run out of ink, a consumer had no option but to purchase a new one. Or get it refilled. In the latter case, the fear of poor quality ink being used persists.

PC makers enter consumer electronics arena
Franklin Paul
THE consumer electronics market, where gadget lovers shop for everything from digital cameras and digital music players to big-screen TVs, is about to get a lot more crowded. Now that the days of rapid growth are long gone for PC makers, popular brands such as Gateway Inc., Apple Computer Inc., and Dell are increasingly tossing their hats — and gadgets — into the market dominated by the likes of Panasonic, Sony Corp., Thomson's RCA and Philips.

That's how AI evolved
Jaspreet Bedi
ARTIFICIAL Intelligence (AI) is the branch of computer science concerned with making computers behave like humans. A lot has been done in the field of AI. The history of AI can be divided into the following stages:

Chinese farmer Wu Yulu, 41, sits next to his robot, Lao Wu, at his home on the outskirts of Beijing. Wu, who only managed to finish primary education, started building robots for fun more than a decade ago. The fifth-generation of his remote-controlled robots, which can do simple household chores, have attracted nationwide publicity and interest from government institutions.
Semantic search engines know what you are looking for
N.S. Soundara Rajan
A new network system to make the Web smarter — to handle semantics or linguistic meanings, more like the way we humans do. Presently, when a Web search is conducted the search engine looks for strings of letters on various pages but has no idea what those letters actually mean or how they are inter-related.

IT WIT
by Sandeep Joshi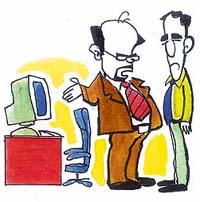 Your job as a new recruit is to log on at 8.45 am, delete spam and by the time it is finished, it would be 5 pm

IT stands for International Terrorism
Sandeep Garg
WHAT is IT? Presently, IT is the driving force behind every field of life. IT is the merger of three fields — computer, communication and microelectronics. However, the way IT has given impetus to militant activities, it can be concluded that IT stands for International Terrorism.


Mouse shoos parrot away
Arvinder Kaur
HOOKED on to horoscopes? No more going to family astrologers or pundits with huge janampatris as your whole future is now available with the click of a mouse. Welcome to online astrology! The number of Websites, both Indian and western, is practically galactic in scope and these seem to be a big hit with the Generation Y.
PTU's digital library endeavour
PUNJAB Technical University (PTU) has taken up the task of digital preservation of the significant literary, artistic and scientific works and other documents lying in various libraries, archives and personal libraries to be made freely available in every nook and corner of the world.
Ex-General battles illiteracy with PC
Frederick Noronha
WHAT do you do with a population of close to 300 million illiterates, who can speak their native languages, but cannot read or write in them? Do we see them merely as empty stomachs and a burden on the nation? Or, is this an untapped potential, which can be converted into 600 million useful hands?

Conning through look-alike Websites
Tony Thompson
SOPHISTICATED gangs are setting up fake Websites that mimic well-established companies and persuade those who visit them to part with credit card details and other valuable financial information.