Mamata returns sans portfolio
Ramachandran gets Textiles
Tribune News Service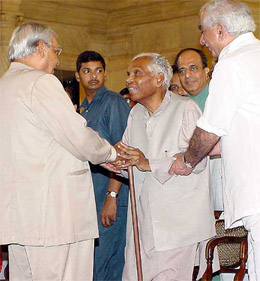 Prime Minister Atal Bihari Vajpayee meets former President K.R. Narayanan at the swearing-in ceremony of the Union Cabinet at Rashtrapati Bhavan in New Delhi on Monday. — Tribune photo by Mukesh Aggarwal



Prime Minister Atal Bihari Vajpayee with Deputy Prime Minister L.K. Advani at the swearing-in ceremony at Rashtrapati Bhavan in New Delhi on Monday. — PTI photo
New Delhi, September 8
Trinamool Congress leader Mamata Banerjee today staged a comeback into the Union Cabinet as a minister without portfolio after a gap of 30 months along with MDMK representative Gingee N. Ramachandran, who quit the government in May following the arrest of his Personal Assistant in a cash-for-transfer scam.
Describing it as the "last expansion", Prime Minister Atal Bihari Vajpayee reshuffled the portfolios of some Ministers of State. Mr Bandaru Dattatreya has been given independent charge of Urban Development and Poverty Alleviation.
Sources in the PMO said Ms Banerjee, who was offered the Coal portfolio when she met the Prime Minister last night, declined the offer and preferred to be a minister without portfolio.
Mr Vajpayee also did not bring back 59-year-old Ramachandran into the Finance Ministry which he had to quit, but gave him the Textiles Ministry. He had served in Textiles when he joined the government in 1999. His party, the MDMK, had insisted that he should be reinducted into the government.
With today's expansion, the strength of the Union Council of Ministers goes up to 81. Of them, 31 are of Cabinet rank, eight hold independent charge in the rank of MoS and the rest 42 are Ministers of State.
In the reshuffle of the Ministers of State, Mr Dattatreya's place in the Railway Ministry has been taken by Mr Basavagouda R. Patil, who moves from Textiles.
Mr Yaso Naik, who was MoS in the Ministry of Road Transport and Highways, now gets Finance, while Mr P. Radhakrishnan moves from Urban Development and Poverty Alleviation to Road Transport and Highways.
Mr Santosh Gangwar, who was MoS in the Labour Ministry, shifts to Heavy Industries and Public Enterprises, continuing to hold additional charge of Parliamentary Affairs.
The new ministers were administered the oath of office and secrecy by President A. P. J . Abdul Kalam at a simple ceremony in Rashtrapati Bhavan.