Social monitor
Breaking religious barriers
Nalini Vajpeyi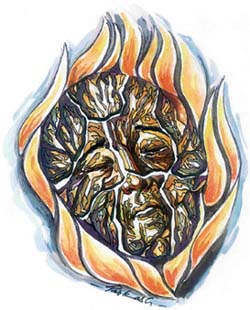 TWO of the Hindus' most holy cities, Ujjain and Allahabad (Prayag), last month witnessed what orthodox Hindu clerics would consider a sacrilege—women performing the last rites at a Hindu funeral.
In Ujjain, Sandhya Chauhan, the only daughter of Mangilal Chauhan, lit the pyre of her father on the Shipra Ghat near the famous Mahakaleshwar temple. "I fulfilled my father's last wish that only I should perform his last rites," she told the awed but applauding crowd that had congregated to witness the unusual sight. Sandhya had been caring for her ailing father for the past two years; she was the only earning member of the family of three, including her mother. "My father used to say since you have served me as a son, you should act like a son during my last rites also," she says.
That a woman should be allowed to perform the last rites of a Hindu in one of the most holy places has a special significance. For, the authorities of Ujjain's Mahaakaal temple duly approved the act. Ashes from adjoining Shipra Ghat (cremation ground) are used to propitiate Lord Shiva in the daily morning bhasma aarati (ritual in which ashes are used) in this famous temple. Around the time Sandhya was challenging the Hindu custom of not allowing women to enter cremation grounds, another young woman was setting a similar example in Allahabad, one of the holiest of holy Hindu pilgrim centres.
When retired government officer K.K. Pandey died, Rita, his daughter-in-law, performed the last rites. None of his three sons turned up for the cremation. Unlike Mangilal Chauhan of Ujjain, Pandey had three earning sons. But all of them deserted him 15 years ago when he retired from service. Only Rita, the estranged wife of Pandey's youngest son, had stayed on to look after her ailing father-in-law, who called her "my bravest son". When Pandey died last month, his neighbours took the body to the cremation ground, hoping the sons would come. They didn't. "I had gone with the funeral procession, but stayed outside. After waiting for about an hour, I decided to perform the ritual myself. The pandits (priests) were hesitant to allow me, but there was no option," Rita says.
In the past few years, several women have scaled such barriers, but only a few have done so in the conservative Hindu heartland. Within the Hindu religious order, and in common social practice, women priests have been largely disallowed from performing Hindu rituals and rites.
In Coimbatore however, a Palghat Brahmin, Gomathi, has been running a funeral service with a large Brahmin clientele for over two decades. "With the help of my daughter Karpagane, we have helped conduct more than 10,000 funerals," says Gomathi, who found her calling (after her husband abandoned her), at the advice of an uncle, himself a priest who conducted last rites for the dead. "An NRI from Palghat was so impressed by my handling of his father's funeral that he asked me to light the pyre of his mother because he was unable to reach the place in time," Gomathi says with pride.
In parts of Maharashtra, women priests have been performing Hindu rituals and rites, including the shraaddha ceremony to pay homage to departed ancestors. "With an increasing number of men of religion taking up other more lucrative vocations, women are now stepping into the gap to actually outnumber male priests in Maharashtra," says Dr Munjal, Chief Librarian of Pune's Bhandarkar Oriental Research Institute.
Initially, male priests criticised and opposed the women priests; they felt a "soft-hearted" woman priest could not perform difficult rites like death anniversaries (shraaddhas). However, social acceptance enabled women priests to carry on and they now perform last rites too. As early as the beginning of the 20th century, Upasani Baba, a religious teacher and a contemporary of Sat Baba of Shirdi, set up a hermitage at Sakori for women. In this ashram, women were taught Hindu scriptures and trained to perform all rituals and rites.
To keep the tradition alive, the Pune-based Shankar Seva Samiti began special classes in 1976 to train women in priestly work and towards fluency in Sanskrit. While there were only 16 women trainees to begin with, a positive response from society and the growing demand for priests resulted in more women trainees.
"The women priests trained by the Samiti spread the knowledge by opening classes in various houses and as the number of students grew, the concept of the 'woman purohita (priest)' become popular. This activity has now spread to at least 10 districts of Maharashtra, and women priests are getting almost the same amount of dakshina (fees) normally earned by their male counterparts," says Dr Munjal, who has conducted a survey on Maharashtra's women priests.
Hindu reformers who seek a redefinition of the woman's role in the Hindu order blame the entrenched Hindu orthodoxy for relegating an inferior role to the woman. The example of female Hindu scholars and philosophers like Ghosha, Lopamudra, Romasha and Indrani in the Vedic period and Sulabha, Maitreyi and Gargi in the Upanishadic period supports their logic.
"This tradition is exemplified in a verse from the Brihadaranyakopanishad, which reads: 'atha ya icched duhita me pandita jayeta', (a well-to-do man always thinks that his daughter should be a scholar)," says Munjal. According to him, a narrow interpretation of the term pandita in the verse is taken to mean not 'scholar', but 'a woman adept in household duties'. A rise in the number of women priests in various parts of the country and their increasing social acceptance indicates that things are changing. But when Ujjain's Sandhya lit her father's pyre and Allahabad's Rita performed the last rites of her father-in-law in the heartland of Hinduism, they were actually setting a new trend.
Two years ago, the Shankaracharya of Kanchi, Jayendra Saraswati and other leading Hindu religious leaders had publicly urged their followers "to shun the atrocious act of female foeticide", recalls Vedic scholar and sociologist K.K. Sharma of IIT Kanpur. "Had they accepted the suggestion (of the religious leaders), it would have been the most effective way to end the evil of female foeticide. It would have made untenable the Hindu notion that a man is obliged to have a son for the benefit of his ancestors and his own life after death. The examples of Sandhya and Rita should now make them rethink," says Sharma.