Sunday, September 14, 2003, Chandigarh, India



J A M M U & K A S H M I R
Zargar's resignation: Cong fears
for image
Srinagar, September 13
The Congress party is deliberating on Jammu and Kashmir after the resignation of Agriculture Minister Abdul Aziz Zargar, over his alleged links with militants. Senior Congress leader, Saifuddin Soz is to join the members of the Kashmir Committee of the party in Delhi to discuss the situation.
Aurangzeb's manuscript missing
Srinagar, September 13
A manuscript of the Mughal emperor, Aurangzeb, kept at Sri Pratap Museum here is missing, official sources said today.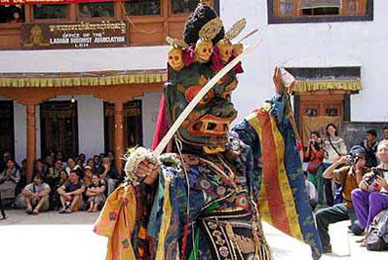 Local artists perform at the Leh Festival in Leh on Friday. — PTI
Indo-US exercises not China specific, says Army
September 13, 2003
Minister not linked with terrorists, says Mufti
September 12, 2003
Cong leader, six militants shot in valley
September 11, 2003
10-year-old killed in blast; ex-minister escapes bid on life
September 10, 2003
Hurriyat issues show-cause notice to 13 rebels
September 9, 2003
Akshardham attack planned at minister's house: Lashkar activist
September 8, 2003
Srinagar airport to go international, says Mufti
September 7, 2003
Militancy gains momentum
September 6, 2003
Terrorists desperate after Gazi Baba's killing
September 5, 2003