Poplar popular no more
Varinder Singh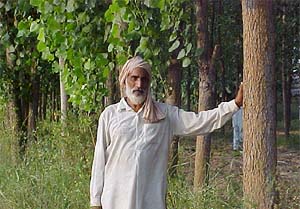 After investing over six or seven years, farmers see their dreams coming apart. — Photo by S.S. Chopra
POPLAR growers of Punjab are seeing their green dreams wilt with prices of their produce touching an all-time low. A glut-like situation prevails in North India owing in part to mass felling of even half-grown poplar trees by farmers of Uttaranchal and Uttar Pradesh in view of the ongoing process of consolidation of land in the two states.
The situation has come to such a pass that disturbed over falling prices, farmers in Punjab are forced to sell their produce at throwaway prices anywhere between Rs 125 and Rs 200 per quintal. The crash was unparalleled this time; even last year, poplar prices were between Rs 300 and 400.
Growers even apprehend that the unprecedented crash could be due to manipulation—an outcome of tricks of certain groups of plywood manufacturers and commission agents so that they could purchase raw wood at low prices.


Prices down to Rs 125-200 per quintal
Premature felling in Uttaranchal, UP
Market manipulation alleged
Wood prices down while plywood remains stable
No big plywood units in Punjab
The fears seem justified in view of the explanation they give—though the poplar wood prices have been crashing for the past three years, there has been no major difference in the prices of plywood, which have remained stable. While most farmers, particularly those with small holdings, have even gone to the extent of resolving not to plant poplar now on, a small section is of the view that the situation would not last beyond the next two years.
"We have never seen such low prices. A farmer has no option but to sell at the price offered. If he tries to delay the sale, he would suffer more as the wood would lose its quality," says Mehnga Singh, sarpanch of Lambran village in Jalandhar district and a reputed poplar grower. "At the time of plantation we had thought that the 'magic' tree would change our lot. But that was not to be. Actually, for the past three years, a major chunk of the trade has gone into the hands of a mafia comprising 'bogus' commission agents, sales tax officials and weighing-machine owners who fleece farmers jointly by controlling the prices. Most of the so-called commission agents do not have licences, but they are still doing a flourishing business," rues Mehnga Singh.
A large number of small growers in certain pockets of Ropar, Hoshiarpur and Jalandhar are resorting to pre-mature felling, seeing the sharp fall in prices and due their incapacity to bear losses for more than a year. Another reason for their reaction is non-availability of marketing facilities and a lack of big plywood manufacturing units in Punjab. The state has only 10 or 12 small units around Jalandhar, Pathankot and Amritsar.
Examining the factors behind the price crash, Mr Pal Singh Randhawa, a Wariana village (Jalandhar) farmer, who also has a poplar nursery, says a major reason for the glut is sudden flooding of the market by lakhs of tonnes of poplar wood from certain districts of Uttaranchal and Uttar Pradesh, where a land consolidation process is underway as part of the reorganisation of the two states. "We have observed that people of those areas are cutting even small trees of one year and are bringing it to markets like Saharanpur in their effort to not leave any tree on their land lest it is transferred in the process of consolidation," says Mr Randhawa. "From my experience, I can tell you that this downward trend is not going to be there beyond two or three years and farmers who don't cut their pre-mature trees in panic now are likely to get a better price for their produce, ranging between Rs 500-600 per quintal. I would advise farmers not to act in panic," says Mr Randhawa.
Mr Piara Lal, a well-known plant nursery owner of Semi village, near Jalandhar, maintains that in view of the crash, the sale of saplings has also declined. "The situation is such that poplar plants are lying unsold in nurseries," he says.
According Mr Mehnga Singh, the biggest factor responsible for the plight of growers is the inability of the government to launch a crackdown against the poplar mafia. "There is no check on their activities. The so-called commission agents are issuing bogus slips to farmers. Such people are pocketing the entire profit. We are going to meet the Punjab Agriculture Minister soon in this regard," he says.
Mr Anurag Sood, a Hoshiarpur-based young farmer, says he was planning to plant poplar trees on 10 acres at his farm at Patehrian village, near Hoshiarpur, early this year, but was put off seeing the plight of other growers. "Now I would go for some other alternative like eucalyptus," he says, adding that the government should create a separate wing in the Agriculture Department to deal with the problems of poplar growers.