M A I N N E W S
Decision on troops after UN action: PM
India, Turkey to fight terrorism jointly
P. Mohan Das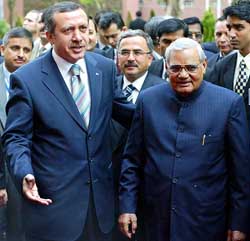 Turkish Prime Minister Tayyip Erdogan (L) gestures to Indian Prime Minister Atal Behari Vajpayee after a welcoming ceremony in Ankara on Wednesday.
— Reuters photo
Ankara, September 17
India and Turkey today set up a joint working group (JWG) on terrorism, signed agreements to bolster economic ties and said they would wait for the UN Security Council's decision on its role in Iraq before taking a decision on sending troops to the embattled country.
At the end of a meeting between Prime Minister Atal Bihari Vajpayee and his Turkish counterpart Recep Tayyip Erdogan, both sides declared their 'conviction' that the suppression of international terrorism, regardless of its origin and motivation, was an essential element for maintenance of peace and security in the region.
The two countries signed three fresh agreements to combat terrorism and enhance cooperation in information technology and science and technology. They also ratified two agreements signed earlier on extradition and tourism.
Mr Vajpayee was candid in saying that he wanted to promote better relations with all of India's neighbours. Without directly mentioning Pakistan, he told Mr Erdogan that there was need for a common platform to fight terrorism.
Earlier, Mr Vajpayee and the Turkish Prime Minister had a restricted meeting for about 35 minutes.
On Iraq, both felt that the territorial integrity of the country must be protected. For this, humanitarian assistance was needed. A speedy political process should start, they said.
Addressing a press conference after the meeting, Mr Vajpayee declined to give a firm answer on whether India would send troops to Iraq or not, saying that a final decision would be taken only after the UN Security Council's stand on its role in the embattled country was known.
Mr Vajpayee said India would take a final decision on sending troops to Iraq keeping in mind the security needs in the country. Mr Erdogan said his country had a responsibility to protect Iraq's stability since it was a neighbour.
On the West Asia situation and the Israel vice- Premier's statement on removal of Palestinian President Yasser Arafat, Mr Vajpayee said, "India cannot support the removal of Mr Arafat. He is an elected leader of the Palestinians.''
Mr Vajpayee said he had a frank and cordial exchange of views with Mr Erdogan on issues of bilateral and regional concern as well as matters of international importance.
"Turkey and India have ancient links. We are now set to become modern partners. We share the common values of secularism and democracy." "But we still need to unlock many doors of economic opportunity. Our bilateral trade in 2002 was only about $ 650 million. We have set ourselves a target of $ 1 billion by 2005," he said.
The two sides also decided to set up a working group of their economic ministries to enhance business and it will make recommendations to the two governments within six months.
To enhance tourism, a direct air service will be started between Istanbul and New Delhi from tomorrow.
The Prime Minister began his official engagements in Turkey with a visit to 'Anit Kabir' — the mausoleum of the founder of modern Turkey, Mustafa Kamal Ataturk.
Laying a wreath at the tomb, Mr Vajpayee wrote in the visitor's book, "I came to pay homage to a great patriot, an intrepid warrior and a charismatic leader, the Mustafa, who led his people through the darkest hour of war and invasion to freedom and into the modern age. — UNI