Adapting to the idea of adoption
When it comes to adoption, there are too many questions asked and doubts and apprehensions expressed in the Indian context. The predominant fear of the couple is the level of acceptability of the child as far as the joint family is concerned, says Inderdeep Thapar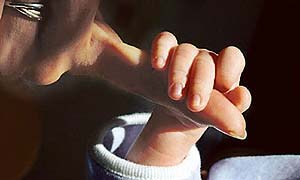 Nurture too is important and one cannot rule out the role of the environment in parenting
A female elephant takes care of an orphaned baby along with its own. It gives milk, takes care of it, trains it and generally looks after its adopted child. Leave alone bringing up children along with one's own, Indians find it difficult to adopt children even if they don't have any. In the Indian context, there are too many questions asked, doubts and apprehensions expressed. The fear about the level of acceptability as far as joint family is concerned is predominant.
" Adoption is a very noble thing," says Dr. Ritu Kohli," Parents are doing good to themselves as well the child. A point of concern is the background of the child, i.e nature verses nurture. Scientists will argue that an individual will turn out what his genes will make him into. However, the second outlook is that it is the bringing up of the child that matters . The training ,the values taught will decide the nature of the child. I think the truth is somewhere in between the two. Intelligence can be genetic but its development depends upon the kind of training imparted to it." The chromosomes undergo mutations all the time and environment definitely plays a part in shaping the personality of the child.
Essentials for adoption: Acceptance by the family and that includes grandparents or whosoever is to be in close association with the child.
A comfortable income so that the child does not lag behind in education for want of finances.
The presence of both the parents (however, some institutions give babies to single parents as well).
Specified age of the mother (generally 40-42 years.) The basic education of the child should be at least matric. If acceptance is not there within the family then the child is at the receiving end. The absence of any one of the parents, be it mother or father can create a void in the child.
The fears of some couples are unfounded. The truth is that each parent is trying to do the best for his child, adopted or not and nobody can question it. There is an increasing awareness amongst couples to relieve themselves of the trauma of emptiness by adoption. Deepali (name changed) is a successful architect. After eight years of trauma which included many IVFs, the couple decided to go in for adoption. "The outlook of people has changed. I am happy to say that each member of our family supported our decision. There has not been any problem in acceptance. Once the child comes it makes a place for itself. This was the right time to adopt. If we kept on hoping, the yearning as well as age would only have increased. The maternal and paternal instinct are the same In fact, I might go in for a second adoption next year so that our daughter does not feel lonely. There is a friend of ours who has adopted three children and says he wants five. Another went in for adoption after only two years of marriage when they found that it is not possible for them to have children.. My suggestion to all such couples would be to accept the facts as quickly as possible and go in for adoption instead of undergoing so much struggle needlessly. The mental blocks are there only so long as you allow them to be there."
Sunidhi (name changed) explains, " I was told by my doctor that chances of my conceiving were very little. Instead of waiting for some kind of miracle we decided to go in for adoption . My son is now five years old and it has never crossed our mind that he is adopted. Even our maid welcomed the baby. Certain people think that an adopted child is some kind of specimen but what is the difference? Fine, you are not feeding the baby but so many biological mothers too are unable to do so. The rapport, the love, the identification of the baby with you is the same as in other cases. When our son is around eight I will tell him that he has been adopted. Instead of someone else telling him and that too when he has reached teens, it is better that it should come from us and at the right time so that there is no alienation."
In fact, revealing to the child that he or she is adopted is very important and that too at the right age, roughly around seven to eight years. There are instances of children taking to drugs or fall into bad company if they are told about it in their teens. The child is already undergoing physical, mental as well as emotional changes. Another thing that the parents do out of frustration when their child does not turn out fine is to start accusing the child about his doubtful parentage. That is the worst damage a parent can do to his or her child.
It creates total alienation..
Saaniya (name changed) also comments that her child got a beautiful welcome when she brought him home. However, she feels that it is mentioned in the birth certificates of such children that he or she is adopted. "At every step when admissions in schools or colleges are taken papers regarding adoption have to be furnished. Even the passport is a reminder." One hopes the government does away with this formality. Even if society accepts, the government will not let us forget. Once the child is ours it is ours."
Society has changed and will change more but certain mindsets still have to change. People, especially from the North, tend to ask more for boys for adoption. It goes to the credit of recognised agencies that they first try to settle a girl child. The very fact that none of the above parents wanted their identities to be disclosed indicates that there is still some kind of reservation regarding the reaction of the people.
"The principal reason behind it is , says Ritu Kohli, " is that people are insensitive. The very fact that a couple has adopted a child indicates that it has already crossed a social boundar. It is actually the insensitivity of the people that they are trying to shield their child from." Our society needs to open up especially since the medical statistics show the rise of infertility in the present times.
You can contact:
Sister Superior, Missionaries of Charity in Sector 23-A, Chandigarh. (Tel:705156)
Kamla Sharma, Bal Niketan, Sector 2, Panchkula. (Tel:560780).
Poonam Sud, Haryana Child Council,650, 16-D, Chandigarh. (Tel:770393).