M A I N N E W S
12 militants shot dead
Huge cache of arms seized; 2 securitymen killed
Tribune News Service and Agencies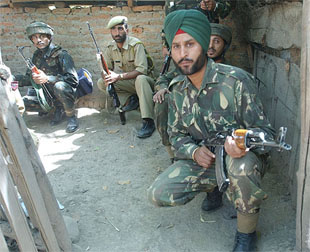 Jawans take position during a gunfight in Tral on Saturday. — Photo by Amin War
Srinagar, September 20
In another major success, the security forces killed six militants and busted a Jaish-e-Mohammad (JeM) hideout in Kashmir today.
On specific information, troops conducted search operations in the Wahbugh forest area in Pulwama district early today but came under heavy fire from militants. The fire was returned and six militants were killed. Three securitymen were also injured.
The police and the BSF busted a hideout of the JeM and seized a huge cache of arms, ammunition and explosives from a house in Qamarwari here early this morning.
The seizures included a KirnKov rifle with three magazines and 340 rounds, an AK rifle, pistols, 28 hand grenades, seven detonators, a packet of IED grenades, 10 rifle grenades, 22 rifle grenade shells, 2 kg of black RDX, some incriminating documents and Rs 67,900.
Three militants and two security force personnel were killed while two securitymen sustained injuries in an exchange of fire at Tirkundi Gali in the Manjakote sector of Rajouri district in the Jammu region.
An unidentified militant was killed in an encounter with the security forces at Lashkoot Behak, Bandipore in Baramula district today. An AK rifle and some ammunition was recovered from the site of the encounter.
A militant of the Hizb-ul Mujahideen, Shabir Ahmad Sofi, was killed in an encounter with the security forces at Krankshivan, Sopore in Baramula district last night.
A foreign militant, Abdul Rahman a resident of Pakistan, was killed in an encounter with the police and the security forces at Churnar Magam in Kupwara district. An AK rifle, five magazines, 194 rounds and a wireless set were recovered from the site of the encounter.
The police recovered the body of a tailor, Javed Ahmad Najar, from Lassipora in Pulwama district today.
The body of Mohammad Sakhi Khattana was recovered from the Kulgam area of Anantnag district today, the police said.
Army personnel did not retaliate as it would have caused casualties among children who were playing in the school compound, he said. Parents had gathered outside the school to pick up their wards.