HOROSCOPE
Kashmir most dangerous dispute, says Musharraf

World page: Pak not to freeze N-arms till India does, says Pervez

Vajpayee praises Sonia
SC rejects plea for review of ruling on govt staff strike
New Delhi, September 24
The Supreme Court today declined to grant permission to an association of NGOs from Kerala to file review petition against its judgement holding that government employees have no fundamental right to strike.
High Court, rights panels seek report
Ludhiana child gangrape case
New Delhi/Chandigarh, September 24
In less than 12 hours after a news item appeared in The Tribune about a four-year-old being muted by gangrape, the National Human Rights Commission, the Punjab and Haryana High Court, the Punjab State Human Rights Commission and the Punjab State Women Commission today took a serious view of the matter.
Earlier story on September 24


Rights panel team in Ludhiana for probe

Editorial: Crime most foul
In Science & Technology today
TRIBUNE SPECIAL

State of universities
A compendium of special articles on institutions of higher learning in Punjab, Haryana & Himachal Pradesh.

THE TRIBUNE MAGAZINES
On alternate Mondays

On Sundays
On Saturdays
IN PASSING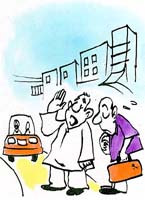 After taking Devi Lal Road turn left to Devi Lal College and Devi Lal Dental Institute then go straight you will reach Devi Lal Chowk.

by Sandeep Joshi
Tripathi interrogated by CBI
New Delhi, September 24
The CBI today brought former Uttar Pradesh minister and key accused in the poetess Madhumita Shukla murder case Amarmani Tripathi here and grilled him. Amarmani Tripathi, who is on a seven-day CBI remand, was brought to the Capital from Lucknow around 11.30 a m by an Indian Airlines flight.
Bhaniarawala stabbed outside court
Police cordons off his dera
Ambala, September 24
Baba Piara Singh Bhaniarawala was allegedly stabbed twice while he was waiting outside a court in the city this morning.

Baba Piara Singh Bhaniarawala, who was stabbed twice by a youth outside a court in Ambala on Wednesday. — Photo by Neeraj Chopra

Cong-backed group wrests control of
Delhi Sikh body
New Delhi, September 24
The Badal and Tohra-led Shiromani Akali Dal, which has traditionally controlled Sikh religious affairs, today suffered a major setback as it failed to wrest control of the Delhi Sikh Gurdwara Management Committee, losing to the Congress-affiliated Shiromani Akali Dal Delhi in the annual executive elections.

News Analysis: Sarna advises Badal to retire





NCR page: New DSGMC line-up

Mr Prehlad Singh Chandok, new DSGMC chief, with Mr Param Jeet Singh Sarna, former chief of DSGMC, and newly elected executive members at a press conference in the Capital on Wednesday.
— Tribune photo Mukesh Aggarwal.


Pak humble sloppy India
Kuala Lumpur, September 24
India paid the price for some sloppy display as they suffered a humiliating 2-4 loss against bitter rivals Pakistan in a pool B match of the Asia Cup hockey tournament here today.


Deepak Thakur (C) tries to control the ball as he is challenged by Pakistan's Rehan Butt during the sixth Asian Cup hockey tournament in Kuala Lumpur on Wednesday.
— Reuters photo
Let us increase Mission strength, India tells Pak
September 24, 2003

Dara sentenced to death in Staines murder case
September 23, 2003

RAW officer, 2 others killed in Rajouri blast
September 22, 2003

12 militants shot dead
September 21, 2003

Advani let off; Joshi to face charges
September 20, 2003

SC tightens noose on Maya
September 19, 2003

Decision on troops after UN action: PM
September 18, 2003

SC stays disinvestment in HPCL, BPCL
September 17, 2003

Dara, 12 others convicted for killing Staines
September 16, 2003

India threatens to walk out of meeting
September 15, 2003