New products & discoveries
Robo-snake spy that refuses to die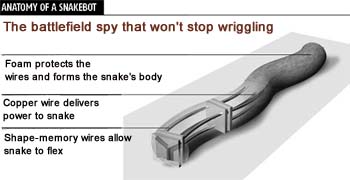 In what may redically alter the existing contours of military reconnaisance and battle-field spying and help curtail casualties in spying missions, a British defence lab is developing a snake-like spy robot or "snakebot" that keeps on slithering even if it gets partly damaged.
The research and development on "snakebot" project, which is in advanced stages, is funded by aerospace company BAE Systems and is aimed at designing a low-cost robot-spy that can be dropped from helicopter to carry out reconnaisance missions, says a frontline science magazine — New Scientist.
The fascinating feature of this robo-spy is its ability to "heal" itself when any of its "muscles" gets damaged, says Computer scientist Peter Bontley of University College, London, who, along with his colleague Siavash Haroun Mahdavi, is working on the project. — PTI
Energy from bugs
Damnation... your mobile phone, on which your work and social life depend, has become a useless lump of plastic and silicon: the battery is dead.
No problem.
Just reach for the nearest bowl of sugar, flip open the phone, top up the battery with a wee spoonful, give it a little time — and hey presto, you are connected to the world again.
The sci-fi scenario may lie in the not-too-distant future, thanks to a pair of US-based scientists who say they have invented the world's first efficient "bacterial battery."
In a Pentagon-backed project, University of Massachusetts researchers Swades Chaudhuri, an Indian, and Derek Lovley, an American, say the battery's source is an underground bacterium that gobbles up sugar and converts its energy into electricity. — AFP
Sponge has fiber optic cables
Fiber optic cables — an amazing invention showing how clever prople can be, right? Maybe so, but nature got there first, US researchers have reported.
A deep-sea sponge with a "skeleton" made out of silica did it first and did it better, the researchers said.
It has spicules — skeletal structures — that look very much like modern fiber optic cables, except they don't crack, the team at Bell Laboratories/Lucent Technologies in Murray Hill, New Jersey, reported.
Studying it could help scientists figure out better ways to make fiber-optic cables and networks, the researchers suggested — Reuters
Heart built with cow tissue
In a first-of-its-kind operation for curing tumours, surgeons reconstructed upper chambers of a woman's heart with cow and human tissue after removing it out and then placed it back.
With this successful operation, the patients of heart tumours can now hope to avoid undergoing risky heart transplants, said Bartley Griffith, one of the doctors who carried out the surgery claimed.
The 12-hour operation was performed last month at the University of Maryland Medical Center in Baltimore on a 46-year-old Massachusetts woman who has been battling a rare, recurring and life-threatening heart tumour, called myxoma. — PTI