M A I N N E W S
Israeli missiles seized from house in Delhi
Rajeev Sharma
Tribune News Service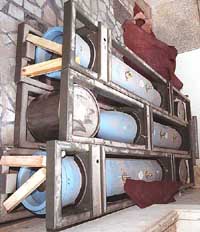 Three non-explosive Israeli missiles seized by the police form a house in South Delhi on Thursday. — A Tribune photograph
New Delhi, September 25
It was an embarrassment the Ministries of Defence and External Affairs could well have done without.
Delhi Police today recovered three Israeli air-to-surface non-explosive "missiles" from a house in South Delhi being illegally stored by a transporter.
A television channel picked up the story and reported that three "Israeli missiles" had been seized from a private transporter.
The story threw the strategic brass of the country into a tizzy as the incident had dangerous national security ramifications both in terms of storage and movement of such dangerous weapon systems and the possibility of such weapons falling into the hands of terrorists.
The Indian Air Force came up with a bikini-like statement which concealed more than it revealed.
The IAF simply said: "As it is customary, certain explosive was offered by the vendor in conduct of trials. The equipment arrived in the country on September 16. The vendor then decided to withdraw from the trial. Instead of returning the equipment in safe custody, it was moved to a residential area in Delhi. There it was checked and found by the "Kalkaji Police".
According to sources, the missiles were dummy ones used for practice trials and did not contain any explosive warheads. They were offered by the Israelis for conducting test trials in Jaisalmer (Rajasthan). But the offer was withdrawn at the last minute, apparently because of the equipment developing some snag. However, the vendor moved the "missiles" to a residential area in the capital instead of returning the missiles for safe custody to the IAF.
The incident raised several questions at the end of the day. Neither the Ministry of External Affairs nor the Embassy of Israel here was informed by the Delhi Police which is mandatory in cases where a foreign country is involved.
The Israeli Embassy learnt about the "missile seizure" from this correspondent. However, diplomat Yaron Mayer declined to give any details of the type of the weapons systems after he got confirmation about the incident.
The Ministry of Defence had its own share of embarrassment as the incident confirmed to the world about the extent of defence cooperation between India and Israel.
The mandarins in South Block and North Block played down the incident when asked how lethal weapon systems like these could be in possession of any person or agency other than the armed forces when even the slightest movement or relocation of such systems is done under heavy armed escort.