Vigilance seeks appointment from Badal
Disproportionate assets case


Chandigarh, September 26
The Punjab Vigilance Bureau has sought an appointment with former Chief Minister and Akali Dal chief Parkash Singh Badal, for questioning him regarding the properties allegedly owned by him and members of his family in a disproportionate assets case.
SC stops premature release of convicts
by Haryana
New Delhi, September 26
Taking serious view of the alleged en masse remission of the sentences of criminals by the Om Prakash Chautala government in Haryana to facilitate their premature release from jails, the Supreme Court today put a bar on any such release in future.
Trade unions to go on strike against
SC ruling
Bharatiya Mazdoor Sangh keeps out
New Delhi, September 26
A day after the Central and state government employees decided to go on a nationwide strike against the Supreme Court's "adverse judgment" on strikes, leaders of all Central trade unions, barring the RSS-affiliated Bharatiya Mazdoor Sangh, today resolved to observe "National Protest Day" on the second day of the next Budget session.


Haryana page: Govt staff rally against ban on strikes
TRIBUNE SPECIAL

State of universities
A compendium of special articles on institutions of higher learning in Punjab, Haryana & Himachal Pradesh.

In Sports Tribune today
HOROSCOPE
THE TRIBUNE MAGAZINES
On alternate Mondays

On Sundays
On Saturdays
IN PASSING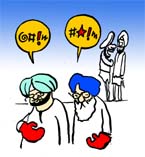 Can we give the best legislator award to them jointly?

by Sandeep Joshi
Amarmani to undergo lie-detector test
New Delhi, September 26
Former Uttar Pradesh minister Amarmani Tripathi, arrested in connection with the poetess Madhumita Shukla murder case, will undergo a lie-detector test, most likely on Monday. "We have informed the lawyers of Mr Tripathi that if he refuses to undergo a polygraph test, it will go against him," a CBI official told The Tribune here today.
Report on power MoUs goes to
Cabinet panel
Shimla, September 26
The Himachal Pradesh Cabinet today decided to refer the report of a high-powered committee, which reviewed the memorandums of understanding (MoUs), power purchase agreement and implementation agreements, signed by the state electricity board and the Himurja with private companies, for the execution of hydel projects to its sub committee to recommend further action to be taken on the findings of the committee.
SC cancels bail to journalist Gopal
New Delhi, September 26
The Supreme Court today cancelled the bail of R.R. Gopal, editor of Tamil magazine "Nakkeeran", against whom the Jayalalithaa government had slapped POTA after he was arrested in connection with a case relating to the disappearance of a person.


India stun S. Korea, enter final
Kuala Lumpur, September 26
India came from behind to scrape past a gritty South Korea 4-2 in a keenly contested match to book a berth in the final of the Asia Cup hockey tournament here today.


Prabhjot Singh (left) celebrates his goal with his teammates Baljit Singh Saini (No. 4) and Gagan Ajit Singh during the semi-final match of the 6th Men's Asia Cup Hockey Tournament in Kuala Lumpur in which India beat South Korea 4-2. — AFP photo
No negotiations on terrorism
September 26, 2003

PM, Bush discuss Iraq, terrorism
September 25, 2003

Let us increase Mission strength, India tells Pak
September 24, 2003

Dara sentenced to death in Staines murder case
September 23, 2003

RAW officer, 2 others killed in Rajouri blast
September 22, 2003

12 militants shot dead
September 21, 2003

Advani let off; Joshi to face charges
September 20, 2003

SC tightens noose on Maya
September 19, 2003

Decision on troops after UN action: PM
September 18, 2003

SC stays disinvestment in HPCL, BPCL
September 17, 2003