Social monitor
The art of balancing two worlds
Anu Celly talks to a cross-section of accomplished professional women who are homemakers too, to find out how they strike a balance between home and work.
WOMEN make up one half of the world's task force. Blessed with the capacity for giving and nurturing life, women have developed unparalleled skills of economy and resource management because for centuries they have had to battle against odds. They have proved their mettle in the world of professional competence and successful entrepreneurship , while managing their home and families
Neena Singh, Vice-President and Regional Head, North, HDFC Bank Ltd.

It is indeed a challenge to balance work and home efficiently, especially if the job is demanding and there is a desire to excel. Time is often a constraint, so one has to extract so much more from each day. This builds up its own pressures and stress which can only be released if there is complete understanding between members of the family–husband, children and in-laws–towards the requirements of a high-pressure job for the woman in the family. It is only with their active support that the roles can be balanced and harmony achieved. I am fortunate in having a husband and teenage son who encourage me in all my endeavours and this foundation of mutual respect has motivated me to take on such a demanding career.
Smriti, Professor, University Business School and Institute For Management Research

The art of balancing, I have learnt through time management. Pre-planning for the next day helps. In order to meet deadlines, I organise my schedule meticulously to distribute properly my energy and time between my job at the university and at the management centre. When my children were small, I took the help of my husband and mother-in-law but never sent them to a cr`E8che. I do my own research work early mornings, late evenings and on holidays. I never take up a commitment unless I can fulfill the same.
Vijay Wadhawan, owner, gas distribution agency:

I have been managing a gas distribution agency since 1985, before that I was working as a Publicity Officer at Punjab Tractors. My day starts at 4.30 am. In order to arm myself spiritually, I practice an hour of yoga and Art of Living, followed by a game of golf at the break of the day. This helps me to keep fit. I work in my office till 5 pm and then take part in community service projects through the Rotary Club and Golf Club activities.
Simran Chadha, Owner, Iris Beauty Parlour:

A very helpful joint family system and an encouraging and co-operative husband comprise the bulwark of my professional success. Working together with my sisters-in-law in a joint family business takes care of most of the bottlenecks involved in business. I strongly believe that working women are more organised and tend to spend more quality time with husband and children. Extra money is always welcome since it augments a woman's self-esteem and self-confidence to take life head on!
Dr. Neena Raina, Technical Officer, Child and Adolescent Health, WHO:

It is important for a woman to develop an understanding within the family so that they respect your professional life and understand your commitments. The critical factor is the role of an accommodating husband who values your professional goals. Women should not lose sight of their traditional values. Whenever we get the time and opportunity we should remain actively involved in domestic chores. This helps me to relax and unwind. Balancing requires shifting priorities slightly from time to time.
Kamal Bedi, Governor, Rotary International, Distt. 3080
I believe that only the busiest people in the world have all the time to take up anything. Though I have to look after my family and my relations, my own travel business, my current Rotary assignment as District Governor of Rotary International, which would be requiring my major time, my own self (spiritually, physically, mentally), I am prepared to take up any fresh challenge. The key to my determination is a level of dynamism which feeds on insatiable energy levels and the fervour to see a project completed. I am totally focussed on what I do at a given point of time—the secret of my success.
Usha Khetarpal, Principal, GCG, Sector 11, Chandigarh:

My own teachers taught me that punctuality and sincerity are the hallmarks of teaching. I enjoy teaching and it is this that gives me the impetus to meet the challenges. My husband is very supportive. He took premature retirement to join me. Discipline and an all-consuming love for what you are doing in life is what takes you through all the odds.


Do the tightrope walk and smile!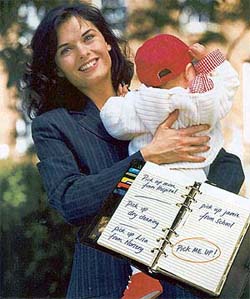 ALL the tips that are given to women presume that a woman is a superwoman. She has to pre-plan and plan to fit in all the conflicting demands on her time, energy and patience. She has to plan a menu, attend a PTM, remember to send the shagun to a relative, take the child to the dentist, buy shoes for a toddler and generally be on fast-forward. As if the physical fatigue was not enough, she also suffers from guilt and the feeling of not doing enough or not doing it well enough. You can reduce the burden by:
Even if others think you are a superwoman, please do not buy this. It is much better to accept that you are a mere mortal and that too a harried one. Period. Don't wait for bouquets, there will be none.
Don't be a martyr. There are no prizes for being a tragedy queen or a whining maiden.
Verbalise whatever you want done calmly. Ask your children and spouse to help out, without lashing out or laying the guilt trip on them. Tempers will fly and still there will be no help.
Enlist all outside help you can. Parents, in-laws, neighbours and friends will pitch in only if you ask them. A creche is preferable at times. Work out the details with your spouse in case a child is sick. If he has important work that day, you take leave and vice versa.
Concentrate on your health and fitness. Women are so "other-centred" that it is easy for them to neglect that visit to the doctor or pop in that iron pill. You do go to the beauty parlour, don't you? Age-specific healthcare is a must.
Accept the fact that you are going to feel guilty and face conflicts. Guilt can be a powerful force in helping to find solutions. Don't deny it.
Delegate cheerfully. Others may not be as perfect but you need to put your feet up.
Prioritise. You can't be all things to all people at the same time. Divide tasks according to need, urgency and order of importance — AN