EARLIER COLUMNS
The merits and hazards of keeping a diary
September 27, 2003

Astrological falsehoods
September 20, 2003

Strive to look and feel younger
August 30, 2003

Enjoying the grace of God
August 23, 2003

A tribute to the great revolutionary
August 16, 2003

The long and the short of it
August 9, 2003

Why poets and writers rise above hatred
August 2, 2003

A paradise on earth, that is Himachal
July 26, 2003

When nothing but memory remains
July 19, 2003

A strange way of healing
July 12, 2003

Codes of conduct that received a royal ignore
July 5, 2003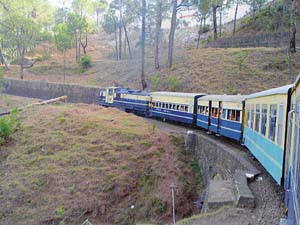 The hills appear greener and more refreshing after the rains
The hills are also greener and appear more afforested. Stream beds which are dry most of the year have water gushing over rocks and boulders. There are not many flowers to be seen along the roadside but it does not seem to matter: for the eyes, green is the most soothing colour. All along the route the fragrance of farmfresh challis or bhuttas, roasted on charcoal amber, are being guzzled by men and women. A freshly roasted corn-on-the cob smeared with salt, pepper and lemon-juice is a feast for kings.
I wish there were fewer trucks and buses on the road. They belch smoke, their engines make a lot of noise as they grind their way uphill, their horns pierce one's eardrums and they slow down other motorised traffic. Ajourney which should take no more then 40 minutes takes one and a half hours.
Lahore's Heera Mandi
I get news of what goes on in Lahore's prostitute quarter Heera Mandi from The Christian Science Monitor. The author Elizabeth Ghauri describes it as Pakistan's cultural centre. It was no such thing at any time in its history. It was always a redlight area, combining dancing and singing (mujra) with straightforward sex for money. Most non-Lahoris writing about it translate its name Heera Mandi, as Diamond Market. So does Elizabeth Ghauri. It never was a diamond market; only had a clusters of whore-houses. The name is derived from Raja Hira Singh Dogra, a great favourite of Maharaja Ranjit Singh who had a haveli there. Its nebulous claim to being a cultural centre is because Allama Iqbal, Pakistan's greatest poet, also had his haveli close by. His grandson Yusuf Salahuddin has restored the ancestral haveli as his residence.
Despite the resurgence of religious fundamentalism, banning consumption of alcohol, and the rule of military dictators committed to making Pakistan a Pak (pure) state, Heera Mandi has flourished as the mandi (market) for human flesh trading. It continues to be the main supplier of film scarlets and dancing girls for the Pakistan film industry.
Pen fetish
Kuldip Munshi, hotelier of Kasauli, has a fetish for pens. Whenever he drops in on me he brings half a dozen pens as gifts. They are not the common kind of ball-point pens available for Rs 10 or less, but fancy ones I have never seen before. One is combination of a pen and a torchlight. It has a tiny bulb close to its nib, so you can write in the dark. Unscrew it and it has a stronger bulb which can light your way. One has the picture of a comely woman draped in a long black evening dress. You turn it down and the dress slips off the young lady and shows you all she has without a stitch of clothing on her. There are others of different colours — red, green, yellow and, believe it or not, gold.
Amir Tuteja of Washington also has a pen fetish. Whenever I was in Washington, he took me to his favourite pen store. Although I did not need it I was forced into buying one. Tuteja bought three or four. Whenever he comes to Delhi, he brings a few pens for me. And with every set of newspaper clippings he sends me, there is a catalogue of the latest kinds of pens.
I too have a fetish for pens. I have a varied collection: Cartiers, Mont Blancs, Parkers, Cross, Watermans — you name it, I have it. Quite a few have been stolen from my collection. So I keep them locked in my cupboard. I keep three of my favourite pens on my person when I go to bed at night. Despite my collection whenever anyone gifts me with a new pen, I am mighty pleased. However, when it comes to writing, I use those I steal at board meetings of Le Meridien Hotel.