CONTRACT FARMING
This Rabi, the focus is on durum wheat and hyola
P. P. S. Gill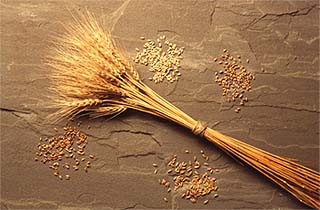 AS economists, farmers and the Punjab Agro Foodgrains Corporation (PAFC) evaluate contract farming, introduced in Rabi 2002, it is time to take a look at the plans for Rabi 2003-04.
The Managing Director of the sponsor corporation (PAFC) of this scheme, Kripa Shankar Saroj, exudes confidence that contract farming would grow roots. While conceding there have been gaps and pitfalls, he denies it is another utopian bureaucratic idea.
"Lessons have been learnt from experience. Corrective measures are on the anvil. Once awareness increases among farmers, more demonstration plots are sown and success stories get spread, things will change. The important task is to change the mindset," he says.
For Rabi 2003, a farm map has been drawn. Saroj says it is a "path-breaking multi-crop, multi-year contract farming system map". The scheme is to be implemented in phases. For the first phase the identified crops are spring maize, sunflower, Kharif maize, basmati, castor and guar.
This Rabi the proposal is to take up durum wheat and the hybrid rapeseed mustard, hyola, on 40,000 acre each and also raya, gram, and field peas. Camps are being planned to apprise farmers of the concept of contract farming and other details.
The corporation has set for itself a target of bringing 3 lakh acre under contract farming in Kharif-Rabi 2003. Saroj says there are tie-ups with seed companies for the supply of high-yielding hybrid seeds, bio-fertilisers, pesticides and other inputs. "Organic" farming is next on his agenda.
For agronomic practices, another set of private extension companies have been hired. He says just as buy-back guarantee is part of the contract that farmers sign with the companies concerned, so is providing them with technical services. The corporation has been authorised to act as the nodal agent of Nafed for oilseeds and pulses to be procured at the MSP.
The corporation is also making amends in its operations, having faced the onslaught of farmers' organisations and also having not involved either the Department of Agriculture or the Punjab Agricultural University in implementing the scheme.
Now PAU is being sounded for multiplication of seeds. Saroj says that seed production, as planned on PAU, Punseed and farmers' and companies' farms, is for durum wheat, barley and hyola. An area of 2.50 lakh acre is proposed to be covered under the seed multiplication for Rabi 2004.
There is also a move to reduce the market and rural development fees from 2 per cent to 0.25 per cent.
PAU's role
PAU, has, so far kept itself aloof from this ambitious programme. No one in the university is willing to say "on record" if any study or analysis has been done of contract farming. However, "off the record," PAU scientists say the basic idea of contract farming was to reduce the risk for the buyers and producers.
The buyer is assured raw material and the desired quality of product. On the other hand, for the producer the risk of market demand and price fluctuation is reduced.
The real potential of this system, nevertheless, lies in the development of agro-processing industries and related infrastructure. It would be more successful for perishable farm produce. PAU experts also say that the present system lacks an administrative or legal framework. Even credibility between the beneficiaries and sponsors has to be built. The contracts should be legalised and there should be a dispute-settlement mechanism to cover the risks involved. This could be done through crop insurance.
The scheme must also address the small and medium farmers, and not just help big farmers. PAU experts feel that the university package of practices for Rabi and Kharif crops regarding inputs, quality, certified seeds and agronomic practices must be incorporated in contract farming.
In this backdrop, the Northern Region Chapter of the Confederation of Indian Industry has established an "Agriculture Reforms Panel—CII Punjab State Council," with Sanjeev Nagpal as its convener.
The panel has held two meetings and drawn up an agenda for itself to gain from and benefit farmers under the contract-farming scheme.
The panel has prepared four concept papers dealing with contract farming, strengthening industry-PAU linkages, facilitating bank finance and dovetailing biotechnology with farming. On the panel are retired and serving farm scientists and economists as well as leaders of businesses houses.