Dalerís brother held in fraud case
Pop singer named in FIR
Tribune News Service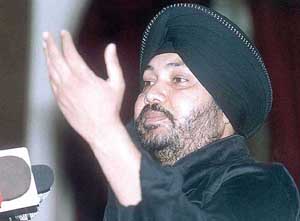 Daler Mehndi addresses a Press conference in New Delhi on Monday. ó Photo by Kamal Singh
Chandigarh, October 6
A case of fraud and cheating has been registered against noted Punjabi singer, Daler Mehndi and four other persons, including his brother, Shamsher Mehndi who has been arrested. They had allegedly promised to take youth abroad in their musical troupe.
Daler, in a statement issued at Delhi, has refuted the charges and has demanded an inquiry into the matter.
The case has been registered by the Punjab Police at Patiala on a complaint by Bakshish Singh, a resident of Belwara in the district, Senior Superintend of Police (SSP) Patiala, Paramraj Singh Umranangal said.
The complainant alleged that he had paid Rs 13 lakh out of the demand of Rs 15 lakh for sending him abroad, which was however, not done.
A police party arrested Daler Mehndiís brother near the Punjabi University Campus at Patiala while he was on his way to receive an instalment of money from Bakshish Singh, the SSP said. He is being interrogated while police parties had been sent to arrest Daler Mehndi and others named in the FIR.
He said Daler Mehndi and others have been charged with promising to take people from here as part of his troupe and then leaving them in Canada and the USA.
Meanwhile, in a statement issued from New Delhi, Daler has refuted the charges of involvement in human trafficking and demanded a high-level inquiry to unearth the real extent of the racket in which, he said, a number of police officials and medical practitioners were involved. He had disowned his elder brother Shamsher four years ago.
Expressing his total ignorance about the illegal activities of his brother, who was once a member of his pop group, Daler, however, admitted that his brother was involved in the crime.
The pop singer claimed he had been named in the FIR as he refused to accept the demand of certain policemen to pay Rs 1.5 crore for keeping his name under wraps. He said he received a call on Saturday from the Deputy Superintendent of Police (Patiala), Rajinder Pal Singh Anand, that he should pay Rs 1.5 crore if he wanted his image not to be affected because his brother had named him in the case. He added that similarly, Dr Ajay Bhalla, a medical practitioner of Jalandhar, made a call to his nephew suggesting that the singer should pay the said amount if he wanted his name not to be dragged in the case.
Daler disclosed that there were about 18 persons who were involved in the racket of misleading people and luring them on the pretext of sending them abroad as part of the group of famous artistes.
Besides his brother, Dr Bhalla and Anand, Daler named Pawan Kumar Malhotra, Vineet Kumar alias Agent (all residents of Jalandhar), Bakshish Singh ĎVaidí, Balwinder Singh, Jaswinder Singh, Surinder Singh alias Badshah, SSP Pawan Raj Singh, Superintendent of Police Kuldip Singh (all residents of Patiala), Tejinder Singh Gulati and his brotherís associate Biloo Mama (both residents of Delhi) were named by him as the people involved in the racket.
He said he had spoken to senior Punjab Police officials who had assured him that the charges were fake and no action would be taken against him. At the same time, he was contemplating taking legal recourse, including applying for an anticipatory bail, to safeguard his interests, he added.