M A I N N E W S
India opens skies to ASEAN flights; security pact signed
Ashok Tuteja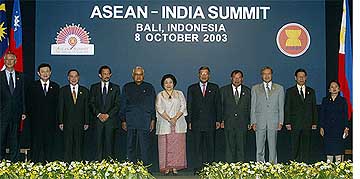 From L-R: Singapore Prime Minister Goh Chok Tong, Thai Prime Minister Thaksin Shinawatra, Vietnamese Prime Minister Phan Van Khai, Sultan of Brunei Hassanah Bolkiah, Indian Prime Minister Atal Behari Vajpayee, Indonesian President Megawati Sukarnoputri, Cambodia Prime Minister Hun Sen, Lao Prime Minister Bounnharg Vorachith, Malaysian Prime Minister Mahathir Mohamad, Myanmar Prime Minister General Khin Nyunt and Philippine President Gloria Macapagal Arroyo pose for a group photo after a meeting of the ASEAN. — Reuters photo
Bali, October 8
In a major development in the process of normalisation of Sino-Indian ties, China today announced that it had removed Sikkim from the list of regional countries on its official website, clearing the decks for Beijing's formal recognition of the state as a part of India in the near future.
China also expressed confidence that the boundary dispute between the two countries would be resolved amicably. At a meeting here with Prime Minister Atal Bihari Vajpayee, Chinese Premier Wen Jiabao said Sikkim, which figured after Singapore on the list of regional countries on the website, was removed from there yesterday.



Indian Prime Minister Atal Bihari Vajpayee (L) shakes hands with Indonesian President Megawati Sukarnoputri following a signing ceremony on the accession of India to the treaty of Amity and Cooperation in Southeast Asia in Nusa Dua, on the Indonesian resort island of Bali on Wednesday. — Reuters photo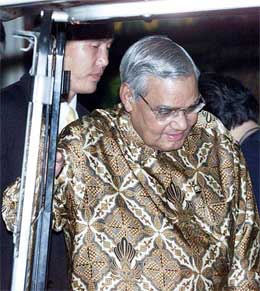 Mr Vajpayee, wearing a batik-printed shirt, arrives at a dinner hosted by Indonesian President Megawati Sukarnoputri in Bali on Tuesday. — PTI photo
Mr Wen also said China would honour all the understandings the two countries had reached during Mr Vajpayee's visit to Beijing in June.
Briefing reporters Foreign Secretary Kanwal Sibal said the two leaders also directed their special representatives — National Security Adviser Brajesh Mishra and Chinese Vice-Foreign Minister Dai Bingguo — to meet in New Delhi on October 23 to hold their first round of talks on the vexed border issue.
Meanwhile, Mr Vajpayee has announced India's decision to unilaterally open its skies to designated airlines of ASEAN countries and mooted the proposal for the formation of a broader Asian community to give a fillip to economic activities in the continent.
Addressing the second India-ASEAN Summit, he also declared India's determination to join hands with ASEAN countries to tackle terrorism.
Under the "open sky policy", which came in for appreciation by ASEAN leaders, India will permit daily flights to Delhi, Chennai, Kolkata and Mumbai.
India also signed the security pact — Joint Declaration on Cooperation for Combating International Terrorism — besides the Framework Agreement on Comprehensive Economic Cooperation leading to the creation of a free trade area by 2011; and India's Accession to the Treaty of Amity and Cooperation in South East Asia.
Significance is being attached to the declaration on terrorism, which has been a common concern of the two sides in recent years. Like India, several ASEAN countries are grappling with terrorism.
The declaration envisages cooperation between the two sides in information exchange and legal matters and free cooperation in enforcement matters, institutional capacity building and training. — UNI