M A I N N E W S
Fly ash continues to flow
Fisheries Dept collects water samples from wetlands
Lalit Mohan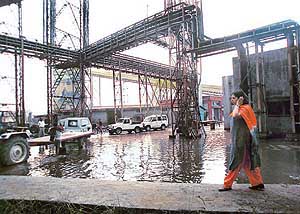 Deputy Commissioner Seema Jain at the inundated coal handling plant of Guru Nanak Thermal Plant in Ropar on Wednesday. — Tribune photo by Karam Singh
Ropar, October 8
Fly ash continued to flow into the Sutlej in the international wetland here for the second day from the breached dyke of the Guru Gobind Singh Super Thermal Plant (GGSSTP).
Sources said the fly ash flowing into the wetland would adversely affect its flora and fauna. The fly ash was reducing the oxygen content in water in the wetland, threatening the fish species. The Department of Fisheries, Ropar, has collected samples of water from the wetland to assess the oxygen content in it. The District Fisheries Officer, Mr Dogra, said due to persistent pollution from fly ash dykes, the number of fish species in the wetland had reduced from 35 to 17.
The fly ash would adversely affect the food chain in the wetland. The photosynthesis of hydrophytes in the wetland was being affected due to the pollution. The hydrophytes are the major food of fish and snails that further feed migratory birds coming to the wetland.
The timing of the breach has raised concern. Already the first batch of migratory birds has arrived at the wetland.
The Chairman of the Punjab Pollution Control Board (PPCB), Mr K.P.S. Rana, along with a team of engineers, visited the breach site and the wetland this evening. Mr Rana said samples of the Sutlej waters from the wetland and the surrounding areas had been taken and the effect of the breach on animal and human beings would be studied.
Meanwhile, the water from the breached dyke continued to flow into the control room area of the coal handling plant of the GGSSTP today. The thermal plant authorities were busy pumping out water using motors. Efforts were also being made to plug the flow of water from the dyke. However, the sources said it might take 10 to 15 days to plug the breach. The sources said the stage-1 dyke that breached had been repaired and raised by 2 to 3 metres this year. The repairs of the dyke were completed in January this year. The six-month guarantee of the recent repairs ended in July. However, just two months after the lapse of the guarantee period, the dyke breached, raising questions about the quality of work.
The Deputy Commissioner, Ropar, Ms Seema Jain, along with administrative officers, today visited the breach site. She said the ADC (General), Ropar, Mr Vikas Garg, had been directed to submit a report regarding the matter.
The Chief Engineer of the thermal plant, Mr P.S. Luthra, said the breach did not have any immediate effect on the power generation in the plant. Asked about the reason of the breach, he said only investigation could throw light on it.