Storming a male bastion
Space woman
Aditi Bhaduri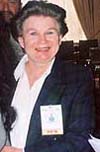 Valentina Tereshkova
SHE had made history exactly 40 years ago as the first woman to fly into space. So it was fitting that the maximum applause was reserved for Valentina Tereshkova as she made her entry at the inauguration of the first-ever reunion of foreign alumni in Moscow recently. Only President Putin, who inaugurated the meet organised by the Russian ministry of Education, could compete with her for the longevity of the ovation. Undeterred by security constraints, a sea of admirers mobbed Tereshkova clamouring for her autograph.
By doing the unusual, Tereshkova also opened the path for a later generation of women astronauts like Kalpana Chawla and many others. Today, she heads the Russian Association for International Co-operation which comprises cities and associations promoting cultural relations in 56 countries. Among the 300 odd representatives from various countries who congregated at the reunion were five astronauts or as the Russians call them—cosmonauts. Hailing from Mongolia, the Czech Republic and Bulgaria, all of them had undergone training in Russia or the then Soviet Union sometime or the other.
"Mankind is no longer chained to its planet," were the first words that came to her mind, reminisced Valentina Tereshkova, when she finally orbited into space after months of hard work. Tall and ramrod-straight, smartly dressed in a green checked business suit, she looks fit enough to fly into space once more. Closely cropped hair frames her face, almost the same hairstyle that stares at us from those black and white photographs taken all those years ago when she became the inspiration and symbol for so many women the world over. The years have leveled down her cheeks, but have added a certain softness to her face. The eyes, however, are the same - sparkling and mischievous. As a young girl, it was terrible hard work for Tereshkova. After all, she was not born with a silver spoon. "I came from a labourer's family. My mother brought me up single-handedly. Can you imagine how difficult that was?" she countered. Born in the small town of Maslennikovo in 1937, she soon lost her father, a tractor driver, killed in action during World War II. Her mother, Elena who worked in a textile plant, virtually brought up her children - two daughters and a son. This created a close bond with her mother which reflects in Tereshkova's empathy to all mothers even now.
Finishing school at 16, Tereshkova began working to ease the pressure on her mother. However, she continued her education by correspondence course and became a graduate on cotton-spinning technology. Always interested in parachute jumping, she joined the local aviation club, making her first jump at the age of 22. "It was all kept a secret," she says with an impish grin, "my mother would have been too worried otherwise." But her secret was out when a couple of years later she set up the Textile Mill Workers Parachute Club and became its first head. Then came Yuri Gagarin's flight to space and "`85 uppermost in my mind was – if a man could do it, why couldn't a woman?" So she volunteered for the Soviet space programme and was one of five women selected as potential candidates in 1962.
The training was rigorous and included weightless flights, parachute jumps, isolation tests, centrifuge tests, physical training, rocket theory, spacecraft engineering, 120 parachute jumps and pilot training through jet fighters. All this hard work paid off when she was assigned to be the pilot of the Vostok 6. She became the first person to be recruited without experience as a test pilot. Her selection was based on her parachuting skills and her 126-jump record! Her radio name was "Chaika," - seagull in Russian. Thus on 16 June, 1963, the first woman shot into space from the Baikonur Cosmodrome in Kazakhstan. How did she feel looking at the earth from space? "It was breathtakingly beautiful, like something out of a fairy tale. There is no way to describe the joy of seeing the Earth. It is blue, and more beautiful than any other planet. Every continent, every ocean, had its own distinct beauty," she reminisced. Remaining in space for three days, Tereshkova orbited the earth 48 times, returning to terra firma by parachuting. The girl from suburban Maslennikovo was now a world celebrity.
But wasn't all that a bit contrived – the Soviet Union was showcasing to the world the status of women whereas in reality, women did not enjoy much equality in society? No, she said emphatically. "The state did guarantee us the right to study, to work, equal pay for equal labour, and in any case there were other women cosmonauts too. I simply happened to be the first one."
Later, she enrolled in the Zhukovskiy Military Air Academy, graduating with distinction in 1969. Soon she became an Ambassador and spokeswoman for her country at international women's meets. In the very year that she orbited into space she visited 17 countries including India. The reception in India, which she visited with Yuri Gagarin, was stunning, she recalled. Specially entrenched in her memory are the garlands that were put around their necks everywhere they went. So every time India is mentioned, the scent of flowers wafts into her memory. On that trip, which was certainly not the last to India—Tereshkova even visited Calcutta. Marriage to fellow cosmonaut Andrian Nikolayev, however, was short-lived. Her daughter Elena is a doctor, and Tereshkova enjoys the role of a doting grandmother to the hilt.
A former Communist, Tereshkova regrets the demise of the Soviet Union and many of the values that the country had upheld. However, she is optimistic that Russia will once again regain its authority in world affairs. Says she, "We don't strive for hegemony, but to create a new world order where might will not be right and weak states will not be bullied into kowtowing to stronger ones. We shall succeed in creating a world where peace prevails with justice and where there would be no wars so that there are no more war widows like my mother." TWF