Maj. Gen. Yashwant Deva suggests better coordination among various Indian agencies engaged in fighting terrorism; gleaning, collating and disseminating of relevant data is vital to the success of any anti-terrorist measure. Sonika Gupta is skeptical about the aims, functions and effectiveness of the so-called coalition against terrorism. She advocates more focused alliances. Shabnam Mallick and Rajshri Sen, while insisting on a close look at the root causes, feel that an attitudinal change accompanied by organisational transformation at the international level will make anti-terrorism measures more practical. Brigadiers D. Sharma and C.B. Khanduri examine the different facets of jehad. Other contributors, too, take an informed look at the causes and effects of terrorism.
The essays are succinct, lucid and thought provoking.
Miracles of Ardaas
by MS Kohli. Indus. Pages 184. Rs 150.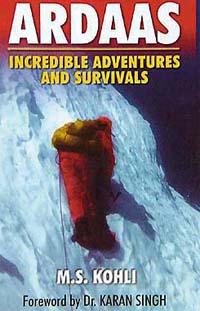 The power of prayer is universally acknowledged. When in trouble, one often finds oneself very lonely and vulnerable. One's character is tested to the utmost. In order to emerge triumphant from the ordeal one needs to draw upon one's inner reserves of fortitude. Prayer helps magnificently in this regard. One discovers hitherto unknown channels to the Supreme Being, and realises that even when ordinary mortals are unable or unwilling to come to one's aid, He is ever ready to answer to the call of distress.
Ardaas is a Sikh term for prayer. And, like all prayers, it strengthens the devotees' resolve to overcome even seemingly insuperable odds. Kohli, who traces his links to the great Sikh warriors of yore, is a veteran mountaineer, prolific author and environmentalist. Having faced several perils in his life, he enumerates in this book, how Ardaas helped him come up trumps against all odds. His first adventure was as an eight-year-old when he was to climb the 2000-foot high Martyrs Summit situated in the rugged northwest Himalayas (now in Pakistan's NWFP) to pay obeisance to the Kohli clan's martyrs. He is convinced that he was able to climb up the steep gradient because of the Ardaas he had performed before setting out.
Later on in life he had more dangerous encounters, including those with high-altitude robbers, which make for a thrilling read. Maybe the Frontier spirit helped him come out a winner, but he attributes his triumphs to the Ardaas that he performs conscientiously.
Yes You Can
by Joginder Singh. Main Street, USA. Pages 246. Rs 195.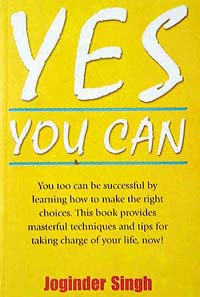 Here is one more inspirational book from the former CBI Director, Joginder Singh. While pursuing success — a legitimate human aspiration — one often faces daunting challenges that may persuade one to give up the enterprise. The author cautions against such a tendency. He earnestly pushes for persevering with one's quest while accepting challenges because "no success is possible unless you believe that you can succeed." He also would like us to be self-reliant. Stress and unhappiness often accompany life's struggles. Problems — tangible as well as intangible — dog the path to success. One will have to resolve these difficulties and cope with the stress and unhappiness on one's own.
I'd like to mention here Russian ballet dancer Anna Pavlova's advice on how to achieve success, "As is the case in all branches of art, success depends in a very large measure upon individual initiative and exertion, and cannot be achieved except by dint of hard work". Joginder Singh, too, draws a similar road map to success. In the chapter, The Art of Success, he points out "It (success) is the result of inspiration, aspiration, desperation and perspiration." Chapters like Organizing for Success, Successful Management, Attitude is All etc give plenty of food for thought.
Corrigendum
In the column Writeview, by Randeep Wadehra, carried on September 28, the review of Letters to Seekers by Swami Ramanandji it was said the letters had been translated by Shiela Gohri. These letters have, however, been written originally in English and are hence not translations. The error is regretted.