The task is stupendous. Though we may have done well in recent years, both at the junior and senior levels, winning a couple of tournaments here and there, including the Junior World Cup, but as a nation we have yet to develop confidence in our national team.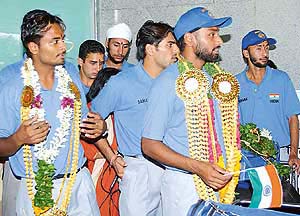 Baljit Singh (second from right) and team-mates at the Chennai airport on return from Kuala Lumpur
Only a few weeks ago, when our team while playing in the Champions Trophy Hockey Tournament in the Netherlands, did not perform too well, unprecedented criticism was heaped on it. After taking a comfortable 3-0 lead over the hosts, we lost our opening match. Though we had recorded a resounding 7-4 win over Pakistan, we still finished without a medal, a poor fourth in the elite six-nation tournament.
Our defeats at the hands of Holland and Argentina made us lose our faith in the team. From heroes, our players turned zeroes. The demand for a foreign coach, as usual, raised its head. Even a key official of the Indian Hockey Federation, responsible for selection and training of the team, went to the extent of suggesting that the team was not properly composed as it had "no wingers".
"How can a team without wingers hope to win international tournaments like the Champions Trophy?," quipped this official. But virtually the same team, minus our star Jugraj Singh, went to Kuala Lumpur and clinched the gold. The same officials now started claiming credit for the recent success. This roller-coaster approach has done Indian hockey as well as Indian sports a lot of damage. After every defeat begins "witch-hunting that targets both players and coaches."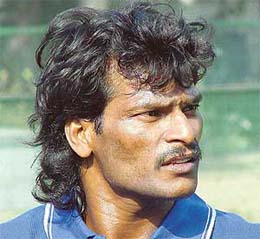 Dhanraj Pillai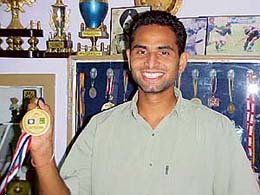 Kamal Preet Singh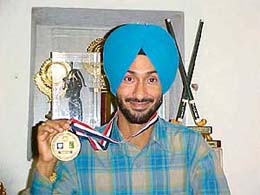 Baljit Singh

There is no doubt that the recent spate of good performances by our national team has revived the game at the grassroots level. In Punjab alone, for example, the number of hockey academies, recruiting and training talented youngsters in the age group of 13 to 19, have multiplied during the past few years.
At present, Jalandhar has five hockey academies. The biggest of these is Surjit Academy, which has about 60 players in three age groups—under-14, under-17 and under-19. The Punjab and Sind Bank Academy has as many as 42 players in under-17 and under-19 age groups while the remaining two academies—Ramesh Chander and KCThapar Academy at Sansarpur—have about 20 under-17 players each.
Besides these four privately run academies, the Punjab Armed Police is also running a centre for youngsters where it has as many as 22 young hockey enthusiasts.
Jalandhar has also started an academy for girls which is being sponsored by an NRI, Harjinder Singh Dhanoa, to perpetuate the memory of his mother, Chanan Kaur.
It is primarily because of these academies that Jalandhar has emerged as the major supply line for our national team. In the Asia Cup champion team, of seven players from Punjab, five had been training regularly in Jalandhar. The Punjab players were Kanwaldeep Singh, Kamalpreet Singh, Baljit Saini, Baljit Dhillon, Tejbir Singh, Prabhjot Singh and Gagan Ajit Singh. Besides Didar Singh, a Namdhari , and Deepak Thakur, though from Himachal, had been virtually Punjab players. Unfortunately, an injured Jugraj had to stay back.
This singular contribution of Jalandhar, one of six centres in Punjab and Chandigarh with synthetic surfaces, is symbolic of the new channels that are keeping Indian hockey pulsating.
If one carefully scrutinises the national teams that left the shores of the country, bulk of players came from a select few centres. Jalandhar was one of them.
At present, the country has more than 20 synthetic surfaces. Of these, Bhopal, Gwalior, Kolkata, Gandhinagar, Patiala, Lucknow and other centres have contributed little in the form of players.
Of late, Chandigarh's contribution to Indian hockey is becoming significant. Sarabjit Singh, Sukhbir Singh Gill, Devinder Kumar, Inderjit Singh Chadha, for example, are among those who have donned national colours well. Because of the wearing out of the synthetic surface, there is a minor disruption in the supply line. Chandigarh will soon get two surfaces, one regular and the other one a practice surface, good enough for six-a-side game.
Lucknow and Meerut in Uttar Pradesh had until some years ago enjoyed the status of the country's hockey nurseries. Mohammed Shahid, Sujit Kumar, Mohinder Pal Singh, Shaqil, Naem Mohammed, Rajnish Mishra and Jagbir Singh, to name a few, all came from the Lucknow Hostel. But suddenly this channel has dried up. The same way, the Bhopal channel, too, has dried up. At present, the players mainly come from Punjab (Jalandhar), tribal belt of Jharkhand, Mumbai, Bangalore and Chennai with a few exceptions. Why is it so ?
Another important channel which has completely dried up is the North-East, where hockey continues to a popular tribal sport. It is the North-East which had given India in the '80s and early 90s players like Thoiba Singh, Tikken Singh and Neelkomal Singh. The last player from the North-East was perhaps Brojen Singh.
The reason is not too difficult to imagine. We did not have the National Hockey Championship since 2000. How do we spot the players without giving the states and union territories time to spot their talent, nurture them andshow them to national selectors? This should be a normal, regular and continuous process. Closing this channel will do more harm than any good to hockey.
Another reason has been the losing interest of Central Government departments and institutions in sponsoring and promoting sports. Until the early 80s, the best hockey teams in the country came from Central Government organisations. For example, Bengal Engineering Group (Roorkee), Bengal Nagpur Railway (Kolkata), Integral Coach Factory (Perambpur), Sikh Regiment Centre (Rampur), Signals, Army Supply Corps, EME, Western Railway, Indian Navy and a few others had excellent hockey teams. Now only a few of these organisations continue to support hockey teams symbolically.
For sustaining hockey and our position in international hockey, it is essential to have more synthetic surfaces, especially in areas where the sport still enjoys some following. Besides, there is also an urgent need to reorganise the format for holding major tournaments in the country. Beighton Cup, the oldest hockey tournament of the world, continues to be played on grass. This, inspite of the fact that Salt Lake City in Kolkata has a synthetic surface.
— Photos by S.S. Chopra