Sunday, October 12, 2003

Ulta-pulta
Circus animals in Parliament
Jaspal Bhatti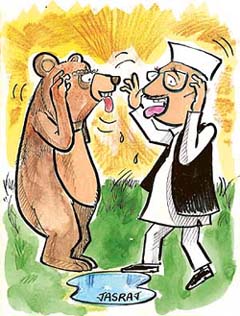 IN 1998, the government banned performances by lions, tigers, leopards, bears and monkeys in the circus. Till today circus owners do not know what to do with their animals. I have learnt that many want to surrender these animals but the Central Zoo Authority says that it doesn't have space to house tame animals.
I wonder if these animals can be of use in parliament or in the different State Assemblies. If lions and tigers are stationed at Parliament, no one would dare to stage unnecessary walkouts. "Bhai Sahib, keep sitting and better participate in the Parliament discussion because outside there's a ferocious tiger" an MP will be heard telling his colleague.
My friend suggested that monkeys, too, could be kept inside the house for the entertainment of the ministers. But my fear is that these animals could die of shame watching the duties of the politicians.
Circus animals are highly trained beings. If they can be trained better they can be used to eat corrupt politicians, policemen and bureaucrats. We might come to know one day that all the members of a Vidhan Sabha have been used as food for the lions.
I have another fear in my mind. Our traders, capable of anything, might politicise these animals. Soon we might see a lion saluting L.K. Advani, another bear dancing before Sonia Gandhi. And where will all the monkeys go? They may be found sitting at the feet of Laloo Prasad Yadav.