Rejuvenate old pear orchards
Amarjit Thind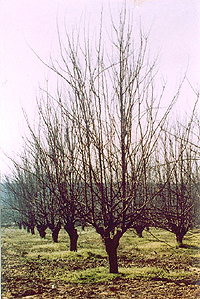 Fresh sprouts on rejuvenated trees.
Pear is one of the most important fruits of northern India and is being extensively cultivated in various parts of Punjab. It makes sound farming and economic sense to go in for planting and nurturing orchards, especially since the state government has gone in an overdrive to promote diversification.
Recently, there were reports from all over the state, particularly the border districts, of pear orchards being uprooted as they were not bearing fruit.
This pained experienced orchard owners and farm experts, who say the plants can be extensively pruned and given a new lease of life. Meanwhile, the land made available by that could be tilled for other crops.
Talking to The Tribune, Dr K. K. Sharma, who retired from the Department of Horticulture, PAU, Ludhiana, and is also credited with popularising pear in the region, says pathar nakh (a hard variety of pear) is being cultivated on more than 85 per cent of the area under pear. Soft pear cultivars in the field are Le Conte, Baggugosha and Punjab Beauty.
Pear trees have six or seven years of juvenile period. Plants may start bearing a few fruits at four or five years, which depends on the training and health of the plants. Pear usually bears fruit on stout spurs and bards (short shoots bearing 3-10 spurs).
A spur can bear flowers for 10 to 15 years, depending on how judiciously the fruit is harvested, without damaging the spur/bard. Pear trees grow to a height of 6-8 m with a 6-7 m spread. A healthy pathar nakh tree can yield 3 quintal and a soft-pear tree 1 quintal of fruit. However, due to lack of bamboo supports to heavily bearing limbs, the tender ones break.
During harvesting, pulling down the fruit causes spur and bard breakage. These broken limbs and spurs are lost permanently. The spurs that are less damaged (broken tips) redevelop within two or three years and become fruiting spurs. In the case of soft pears, the damaged spurs rarely redevelop. Thus, with each bearing year, a large number of limbs and spurs are lost permanently. Such trees become unproductive. However, old orchards can be rejuvenated with total success.
Elaborating on the rejuvenation technique, Dr Sharma says this: The whole tree should be beheaded keeping a 15-20 cm stub height of 3-5 major limbs during December/January. Each stub will give rise to several sprouts during March-April. Let all these sprouts grow till August-end.
Select the best one or two sprouts that are growing outwards on each stub. Remove the rest gently by giving a clean cut close to the stub so that they may not re-sprout. Thus, we would have 6-10 outgrowing scaffold branches per tree. The removal of surplus sprouts can be delayed till December-January. Early selection of scaffolds and removal of surplus sprouts (May-June) can lead to profuse growth of the selected scaffolds, which have a weak link with the stub, leading to breakage. The rejuvenated pathar nakh trees will come into bearing after three years.
The loss of pear crop during this period can be compensated by growing pulses, vegetables and cereals in the land. Fillers such as papaya can also be planted if crops are to be avoided in the orchard. The expenditure incurred on beheading the limbs for rejuvenation is compensated by selling the pruned limbs as firewood.
The rejuvenated trees attain full size within four or five years. These trees can bear a good crop for a number of years once again. The following precautions should be taken during rejuvenation:
—A clean cut should be given to a limb with a sharp saw to avoid bark splitting.
—Apply Bordeaux paste on the cut ends immediately after beheading. The paste can be prepared in the following manner: dissolve 2 kg of copper sulphate in 15 litres of water; mix 3 kg of quick lime in 2-3 litres of water and then add 12-13 litres of more water to it; mix the two concentrated solutions and stir. Apply the paste thus formed.
—Always select outward-growing sprouts on the stubs. No inward growing sprout should be kept.
—Irrigate the orchard frequently to keep the soil moist after rejuvenation.