M A I N N E W S
Non-bailable warrant against Daler
Tribune News Service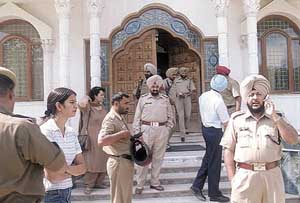 Punjab policemen outside the Nihal Vihar (West Delhi) farmhouse of Punjabi singer Daler Mehndi during a raid in the Capital on Tuesday. — Tribune photo by Mukesh Agarwal
Patiala, October 14
A local court today issued non-bailable warrant against Daler Mehndi.
According to sources, the warrants were issued following an application filed by the Patiala police.
The police claimed that Daler was needed for questioning in illegal immigration case in which his brother Shamsher Mehndi is the main accused.
It said investigation had indicated that Daler was in league with his brother and this needs to be probed. Mr P.S,. Umranangal, SSP, confirmed the development.
A Patiala police team today left for Mumbai to question suspects in the illegal immigration racket allegedly being run by the Mehndi brothers.
Sources said a team led by Superintendent of Police (Detective) Bhupinderjit Singh Virk left for Mumbai today. They said the target of the team was two persons accused of running the illegal immigration operations of Shamsher's Big M Entertainers company in Mumbai.
The Patiala police has registered a case against Daler and his brother Shamsher Singh following complaints that they took people abroad as part of their troupe and charged hefty amounts from them.
Meanwhile, the Punjab police has sounded a red alert for Daler Mehndi after obtaining "compelling evidences'' of his involvement in an illegal immigration racket.
Meanwhile, Senior Superintendent of Police Paramraj Singh Umranangal when questioned whether the team would also examine the role of film stars Raveena Tandon and Juhi Chawla who had accompanied the Mehndi brothers on their trips abroad to present stage shows, said there was nothing on record against the film stars yet. He said they could be questioned if necessary.
NEW DELHI: A joint team of around 50 personnel from Punjab and Delhi police today raided Daler's farmhouse in the Nihal Vihar area of Nangloi in west Delhi and seized at least 6 passports.
When the Punjab police raided the farmhouse they found guards burning key documents. Some of the documents seized from the premises are considered to be "sufficient evidence'' showing the pop singer's involvement in the human smuggling racket, the police said. Today's move came hours after the sleuths conducted raids at the houses of some of the singer's friends and relatives in Tilak Nagar and east of Kailash.
The house of Mehndi's uncle was also raided in Tilak Nagar before the police swooped on the Lado Sarai office of the singer earlier in the day. The police has also launched a search operation for the pop star after he allegedly absconded following court's rejection of his anticipatory bail.
He is wanted to answer charges of involvement in an immigration racket, police sources said.
The immigration authorities in the country had been alerted to ensure that the singer did not leave the country.