China launches manned spacecraft
Anil K. Joseph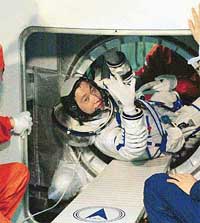 China's first astronaut Yang Liwei (38) waves as he boards the spacecraft Shenzhou V at the Jiuguan satellite launch centre in Gansu province on Wednesday.
— Reuters photo
Beijing, October 15
China today declared that its maiden launch of a manned spacecraft, Shenzhou V, carrying an astronaut has been successful and all systems on board are working perfectly.
The launch of Shenzhou V has been successful as the spacecraft has entered precisely the preset orbit, an official in charge of the country's manned spaceflight programme said, minutes after the blast off.
Yang Liwei, 38, became the first Chinese national to enter outer space, and China, the third country to conduct manned spaceflight after the former Soviet Union and the USA.
"The launch is a success," the official Xinhua News agency reported.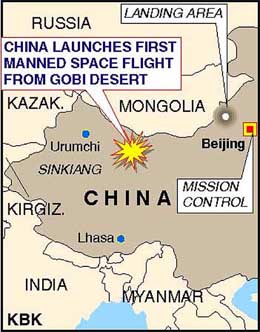 At about 9:30 am, the first earth-to-space dialogue was conducted between doctor Li Yongzhi on the ground and astronaut Yang, the command and control centre in Beijing said.
"I feel good and my conditions are normal," Yang told the doctor about his body temperature and blood pressure.
According to plan, there will be several earth-to-space dialogues during the space flight.
The Shenzhou V, atop a China-made Long March CZ 2F launch rocket, lifted off from the Jiuquan satellite launch centre in northwest China's Gansu province which was witnessed by Chinese President and ruling Communist Party General Secretary Hu Jintao who were present at the site.
Yang is a Lieutenant Colonel of the People's Liberation Army (PLA). Member of the PLA's astronauts team, Yang was trained for the prestigious mission at home since january, 1998.
Yang, seated in the orbital capsule, was reading a flight manual and looked composed and at ease, sources at the mission-control centre said.
MOSCOW: Russia has welcomed the successful launch of Chinese manned spacecraft and hinted at Moscow's role in accomplishing this goal. — PTI