50000-MW hydro power initiative
R.N. Malik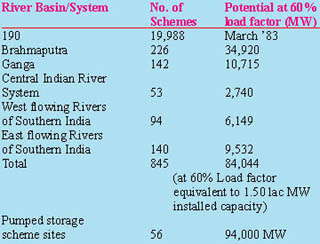 Last year the Ministry of Power, Government of India, came out with a paper which spelt out the determination of Government of India to generate 1.12 lakh MW of power by 2013. The share of hydro power was kept at 40 per cent. As a sequel to this decision, the ministry released another four-page paper on May 24 this year at a function inaugurated by the Prime Minister of India. The title of this paper is "50000-MW Hydroelectric Initiative". Though the paper is over-simplified, still it contains some vital basic information and
more realistic determination of the
government to achieve this target.
The paper is, however, silent on outsourcing of finances to complete the projects by the year 2017 (not 2012 as outlined in the first paper).
The ministry has collected basic data from earlier survey of 845 schemes which can generate 1.5 lakh MW of power. It, therefore, has planned to shortlist 162 projects which can generate 50000 MW of power by 2017. The work on these projects will start by 2007 when all prefeasibility and detailed project reports are completed.
According to the paper, Hydropower potential in different river basins is below: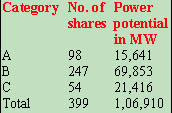 The ministry has gone a step further by ranking these power projects into three categories.
Category A schemes were considered as most attractive with respect to accessibility, logistics, power potential and cost benefit ratio. The distribution of projects into three groups is as below:
Ranking studies were discussed with representatives of different states, CPSUs and other organisations. Finally 162 projects with a capacity of 50561 MW were selected for planning and execution. These 162 projects were handed over to different organisations such as WAPCOS (71), NHPC (43), NEEPCO (18), HISEB (10), SJVNL (2), KPCL (5), UJVNL (13) for preparation of prefeasibility reports. Preparation of Detailed Project Reports (DPRs) will follow this step. This work is expected to be completed by 2007. Implementation of projects will start in 2008 and all the 162 projects are likely to be completed by 2017.
This is a mammoth project/initiative which the Ministry of Power has taken. In fact, it is a historical decision because hydropower projects had been placed on the backburner during the last 40 years. Therefore, the Ministry of Power deserves kudos for realising the importance of launching hydro power projects after a gap of 40 years. But the initiative paper in just four pages for this gigantic step is too oversimplified to carry conviction. The ministry should have added the list of these 162 projects and some more details in the paper.
The second deficiency in the paper is that it is totally silent on the nature of the projects i.e. how many projects are run-of-the-river schemes and how many multipurpose projects. Till this differentiation is made, clear picture of the project will not emerge. This is because run-of-river schemes are misleading in their power generation projections. For example, Khodri Power Project (I&II) in Uttaranchal has an installed capacity of 420 MW. But power at rated capacity is generated only during three months of the year. For rest of the nine months only 20 per cent power is generated i.e. hardly 90 MW because of low flows during the lean period. Had there been a storage dam upstream (Keshao Dam), this project would have generated power at the rate of 420 MW round the year. Hence the run-of-the-river projects should be accompanied by a multi-purpose dam in the upstream. Only then its cost is justified appropriately.
Third, the ministry is totally silent on the arrangement of finances. The capital cost of a hydro- power project is Rs 6 crore per MW. Hence projects with a capacity of 50,000 MW will require Rs 3 lakh crore. There is a provision of only Rs 50,000 crore in the 11 and 12th Five Year Plans. Till there is a firm commitment of adequate finances the project will remain a pipedream.
The ministry is probably relying on private power producers to take up this project. The possibility is very bleak because private power producers have shown lukewarm approach so far for want of comfortable power purchase agreement and lack of guarantee for minimum 90 per cent power evacuation. Projects with a capacity of 50,000 MW can be completed in 10 years or even earlier provided:
1. There is an uninterrupted flow of funds.
2. Works are allotted to the agencies.
3. Dams are constructed in series along the river to reduce spillway capacities.
4. There are more of storage dam projects than run-of-the-river schemes.
5. Even costs can be brought down considerably than Rs 6 crore per MW if the stone masonry dams are constructed in series along the river channel.
Therefore, the ministry should re-cast the paper and publish it in the form of a booklet giving all the aforementioned details. Once such a booklet is circulated to the knowledgeable and concerned persons in the country, a strong movement may be built up and industrialists may also come forward to contribute financially to the government. This will be possible if the government emphasises the following aspects of hydro power projects.
1. Once the projects are completed, power will be available to every citizen at an affordable cost of Rs 3.00 per unit. This is because running cost of hydro power projects is almost nil.
2. Sufficient water will be available for farmers for irrigation. Canal irrigation may replace costly tubewell irrigation in many areas.
3. Floods will be banished from the country for all times to come.
The best policy would be to arrange the finances as far as possible from the general budget or makes borrowing at low interest rates. Alternatively, the government should introduce compulsory saving schemes at low interest rates.
In fact, it has become a mindset for the Power Ministry to look at the hydroelectric only as producers of electricity. That is why the NHPC has mostly taken up costly run-of-the-river projects. The fact of the matter is that real benefit from hydropower is the availability of irrigation water and flood control. Power is a byproduct. If the projects are selected with this perception, the Ministry of Agriculture and Water Resources Development can also contribute to the finances.
Assuming there is no problem of ensuring uninterrupted finances Rs 3 lakh crore over a period of 10 years, even the construction of 162 projects with steady progress is not a child's play. A central high powered agency will have to be created to coordinate the gigantic projects in different states. But if somehow the Government of India is able to construct hydroelectric projects generating 50000 MW uniformly round the year (by the year 2017) the country will usher in an era of economic renaissance. Let us hope and pray that this dream comes true.