M A I N N E W S
VHP men to be allowed darshan
Our Correspondent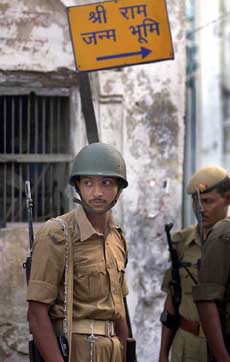 Policemen stand guard at a disputed site in Ayodhya on Thursday.
— Reuters photo
Lucknow/Ayodhya, October 16
In an apparent climbdown from its hardened stand, the state government today declared that it would facilitate the darshan of the idol of Lord Rama by Rambhakts at Ayodhya tomorrow.
For this, a special fleet of buses would also be pressed into service.
"A decision has been taken to deploy state roadways buses to ferry Rambhakts stranded at different check points to the makeshift temple for darshan of Ram Lalla," the Chief Secretary of the state, Mr Akhand Pratap Singh, told reporters today.
This decision of the government has been welcomed by the VHP, which had proposed a sankalp (pledge) programme tomorrow at Ramsevakpuram at Ayodhya. "Though late, it is a right decision," VHP leader Purshottam Narain Singh told reporters.
He also demanded that arrested Rambhakts should be released and should be taken to Ayodhya for darshan.
The Chief Secretary, however, clarified that the arrested Rambhakts would not be released. "The facility to ferry Rambhakts would be reserved for genuine devotees only," he said.
When asked about the proposed VHP programme, the Chief Secretary said the VHP could hold its function 5 km outside Ayodhya limits. "No congregation of any kind would be allowed near the disputed site or within a 5 km radius of Ayodhya," he said.
"The officials at Faizabad had sent feelers in this regard to the VHP leaders present in Ayodhya, but we are still to hear from them," he said.
Meanwhile, The police clampdown continued today with more than 10,000 VHP activists arrested from all over the state. "The total number of arrests in UP has reached over 25,000," Mr V.N. Rai, Inspector-General, Lucknow zone, told reporters at a press conference in Ayodhya.