First Afro-Asian Games 2003
Stage set for battle of continents
Amardeep Bhattal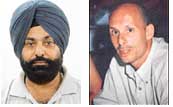 Hockey coach Rajinder Singh—hopeful, left, and Football coach Stephen Constantine—guarded optimism.
The first Afro-Asian Games being held at Hyderabad from October 24 to November 1 will not only showcase the talent of Asian and African continents but will also provide an opportunity to the greenhorns to cement their slots in their respective national sides for bigger and tougher engagements ahead. Though competition is restricted to select disciplines like athletics, boxing, football, hockey (men and women), shooting, swimming, tennis and weightlifting, men's hockey and football are expected to be big hits due to the participation of countries like Pakistan and Cameroon in the two disciplines, respectively.
The inaugural edition of the games, being viewed as a precursor to more prestigious meets in the future, are expected to enhance India's image not only as a sports-loving nation but also as organisers. Successful and trouble-free conduct of the games will open new vistas for Indian sports providing a boost to India's bid for the 2010 Commonwealth Games..
With memories of the historic Asia Cup title win against Pakistan at Kuala Lumpur still fresh in their minds, the Indians will be keenly looking forward to another memorable outing at Hyderabad. With as many as eight countries scheduled to take part in men's hockey, semifinal berths both for India and Pakistan appear certain. The eight participants have been placed in two pools. While pool 'A' comprises Ghana, Korea, Malaysia and South Africa, pool 'B' includes hosts India, Pakistan, Egypt and Zimbabwe.
Both India and Pakistan have rested some of their key players in view of important forthcoming engagements. The Indian team will be without star forwards Dhanraj Pillay, Baljit Singh Dhillon, and midfielder Baljit Saini though efforts to rope in Pillay were continuing.
Indian coach Rajinder Singh views the Games as an opportunity to test new faces like Len Aiyappa, Prabodh Tirkey, Bharat Chhetri and Arjun Halappa and he appears to be on the constant lookout for Jugraj's replacement in view of the Olympic qualifiers in Madrid next March. Ayappa was the top scorer for Anderson Club in the Malaysian league. Halappa last played in the Champions Trophy at Cologne last year.
Pakistan, who have recently hired Dutch coach Roelant Oltmans, will also be without four of their star players, including penalty corner specialist Sohail Abbas, goalkeeper Ahmed Alam, forward Shabbir Hussain and centre-forward Kashif Jawwad. Tariq Imran has come in place of Sohail Abbas, while goalkeeper Mohammed Qasim will be back after the Azlan Shah Cup in March last replacing Ahmed Alam.
Two youngsters who will be keenly watched are junior team skipper Tariq Aziz and dashing forward Akhtar Ali, who will make his international debut. The much awaited India-Pakistan clash is billed for October 27 at 8 pm.
The competition in women's hockey may not be tough after the withdrawal of Busan Asian Games gold medallists China and powerful Japan. South Korea, too, are sending their 'B' team. While Kazakhstan will replace Japan, no Asian country has been found to replace China. The four African participants are Kenya, Namibia, South Africa and Zimbabwe. India open their campaign against South Africa on October 23.
In football, India are pitted against formidable opponents like Cameroon, Uzbekistann, Malaysia, Burkina Faso, Mozambique and Iran.
Cameroon and Iran were title winners at the Sydney Olympics and the Busan Asian Games, respectively. Indian coach Stephen Constantine, with little hope of making it to the title round, is nevertheless optimistic of an inspired showing by his team. The Indians have already acquired the temperament required for top class competition after a brief tour to Thailand where they played two friendlies on October 14 and 16. The first match against Thaliand's under-23 team was drawn while the second ended in a 0-2 defeat. Injuries to key players like Alvito d'Cunha, Deepak Mondal, Debjit Ghosh, Samir Naik and Vinu Jose is a worrying factor but Baichung Bhutia, the only Indian to have played in the English league, along with medio Joe Paul Ancheri and IM Vijayan are expected to play a leading role in India's campaign at Hyderabad.
In shooting, Anjali Bhagwat, Chandigarh's Abhinav Bindra and Rajyavardhan Singh, who have already qualified for the Olympics, will lead the Indian challenge. Anjali, aged 34, won the 10m air rifle gold at the World Cup final in Milan earlier this month with a score of 502.4 points. She is likely to face China's Gao Jing and Korea's Park Un Kyong. Twentyone-year-old Abhinav Bindra, who finished last among 10 contestants in the 10 metre air rifle finals at the Milan World Cup with 590 points, will also be eager to wipe out bitter memories. He may face tough competition from China's Cai Yalin, a member of the gold medal winning team in the Asian Games, and Egypt's Ismail Mohammed. Rajyavardhan Singh Rathore, ranked fourth in the world in the double trap event, will be in the vanguard in the clay target events. Ace shooter Jaspal Rana will also seek to regain his winning touch in the 25 metre centrefire pistol and 25 metre standard pistol events.
The Indian swimmers may find the going tough against strong contenders China, Korea, Japan, and South Africa. However, with the focus more on securing berths in the Athens Olympics next year, the Indian swimmers will be more than satisfied after attaining Olympic qualifying norms though a medal, which has always remained elusive at the Asian level, will be a bonus. Shikha Tandon, Akbar Ali Mir, Richa Mishra, and Nisha Millet will spearhead the Indian challenge in the pool.
Athletes from the African nations will be among the favourites in track and field events. On conclusion of the African Games at Abuja, Nigeria, they have Hyderabad as their next destination. India's star weightlifter Karnam Malleswari will be missed as she is scheduled to compete in the World Championship to secure a berth in the Olympics.
In tennis, India's top players, including Mahesh Bhupathi, Prakash Amritraj, and Sania Mirza will be seen in action with Leander Paes performing the role of a cheer leader. Kolkata's Mohammed Ali Qamar, hero at the Asian Games, is once again expected to be in the limelight in boxing.
Participating countries
ASIA: Bahrain, Bangladesh, Bhutan, Brunei, Cambodia, Chinese Taipei, Hong Kong, India, Indonesia, Iraq, Iran, Japan, Jordan, North Korea, South Korea, Kazakhstan, Kuwait, Mangolia, Myanmar, Nepal, Oman, Pakistan, Palestine, China, Philippines, Qatar, Saudi Arabia, Singapore, Sri Lanka, Syrian Arab Republic, Thailand, Tajikistan, Turkmenistan, United Arab Emirates, Kyrgyzstan, Lao People's Democratic Republic, Lebanon, Malaysia, Uzbekistan, Vietnam and Yemen
AFRICA: Algeria, Angola, Benin, Botswana, Burkina Faso, Burundi, Cameroon, Cape Verde, Central African Republic, Chad, Comoros, Republic of Congo, Democratic Republic of Congo, Djibouti, Libyan Arab Jamahiriya, Macao, Madagascar, Malawi, Mali, Mauritania, Mauritius, Morocco, Mozambique, Namibia, Niger, Nigeria, Rwanda, Sao Tome and Principe, Egypt, Equatorial Guinea, Eritrea, gabon, Republic of Gambia, Ghana, Guinea, Guinea-Bissau, Ivory Coast, Kenya, Lesotho, Liberia, Senegal, Seychelles,, Seirra Leone, Somalia, South Africa, Sudan, Swaziland, Togo, Tunisia, Uganda, United Republic of Tanzania, Zambia and Zimbabwe.