achiever
DD's showman
R.C. Ganjoo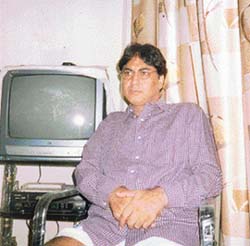 Rajesh Kaul
THERE is no scarcity of talent in Doordarshan Kendras in India and among the more talented ones is 52-year-old Rajesh Kaul, Assistant Director, Delhi Centre, who is preparing to make a feature film in Kashmiri for the Indian Panorama section of the Indian Film Festival. The film will document the times and travails of ordinary Kashmiris and also give a historical perspective on the turmoil in the valley.
Rajesh Kaul is perhaps well suited to make the film. He is not only a Kashmiri but has also served in Srinagar and Jalandhar Doordarshan kendras when militancy was at its peak. When posted at Jalandhar, he he accepted the challenge to restart Hindi dramas on TV which had been taken off the air due to threats from militants. After the killing of Manchanda, Station Engineer, AIR, Patiala in 1991, he, in one week, could produce and telecast the first Hindi play after three years in Punjab. It was based on O' Henry's short story. The play received a good response and was consequently put on the national hook up, too. The other plays that he produced included Apna Apna Daira, Apni Talash, Main Zindagi Hun, Chakravyuh, Bas Aur Nahin, Maan Apmaan etc. The plays got him recognition as a drama producer at the national level.
During his tenure in Punjab, the famous Hindi writer from Punjab, Upendra Nath 'Ashk', was so impressed by Rajesh Kaul's professional work that after watching a documentary of himself, Ashk wrote: "If somebody has understood me so well it is the director of this documentary.
In Srinagar, Rajesh Kaul, the actor, was popularly known as Tahir of Kashmiri serial Zaal. As a drama producer, he produced 10 Urdu and Kashmiri serials and documentaries. Kaul's first television film on 16 mm in black and white was Khawabon-ke- Darachee based on Charles Lamb's famous essay Dream Children. His innovative effort of converting an essay into fiction were appreciated by the then director Mazhar Imam who called it 'poetry in prose'.
The first TV serial he produced and directed was Ujale-ki-Dehleez in 1984. He was responsible for setting a new trend in television dramas in Srinagar. To counter the popularity of Pakistani serials, DD Srinagar produced Urdu serials with the help of good writers like Hedey Kaul Bharti, Late Amin Shakir, Late Ali Mohammad Lone, Afaq Ahmad, Akhtar Mohi-u-din and Rattan Lal Shant. The viewership in Kashmir increased dramatically to such an extent that DD Srinagar started receiving letters of appreciation from Pakistan.
Though Kaul had no formal training in the craft, he was visiting faculty to FTII, Pune in 1993 and 1994.
His real source of inspiration, however, was his mother Gauri Kaul who always stood behind him and his wife Susham Kaul. His work therefore revolves around women empowerment which includes all shades of women and their exploitation. Kaul has 200 telefilms, 100 plays and 15 serials, including Punjabi serials, to his credit and is name to reckon with in television industry.